Information:
Ashington Christmas Light Switch-On will take place on Thursday 30th November 2023, 3.30pm to 6.30pm.
There will be a host of free Christmas activities to get involved in at Ashington YMCA, a Lantern Walk up onto Station Road, past Morpeth Lions with Santa and his Sleigh and along to the Christmas Tree to switch on the lights at 6.00pm.
We are excited to announce Daniel James from the popular 90's duo YELL! will be preforming his new Christmas single, Silent Night O Holy Night before switching on the lights.
In early 1990, Daniel was one half of the pop band Yell!, who had worldwide hits with Instant Replay & Let's Go Round Again. The Album "Let's Go" also features several self-penned songs by Daniel including "Give Me A Little More Time", "What U Do To Me", "Surrender" and "I Get The Feeling". The album has been reissued on Secret Records.
Before his success in Yell!, Daniel worked as an actor in various TV dramas and presented children's TV live on the BBC every morning. During this time Daniel became a presenter on Children's BBC reading birthdays, he was then invited to co-host the series called' But First This' with Andy Crane and Sue Devaney. A live 3-hour magazine series shown on summer mornings on BBC1. During this period met Jeff Chegwin (brother of Keith). On hearing Daniel's solo material, he suggested pairing up with another singer and Daniel formed Yell! and the rest is history. Daniel took some time away from music and had guest lead roles in TV series including, Last Tango in Halifax, Casualty, Coronation Street, Bad Girls, Doctors, Eastenders and in the US, Passions for NBC TV.
Daniel returned to music with a bang in 2021 with several self-penned Top 20 hits on the Heritage Chart.  These included: Set Your Spirit Free, Don't Want To Lose That Girl, Do You Remember Me (No1 in October 2022), Silent Night O Holy Night, Set Your Spirit Free 2023.
Here are just some of the activities you can take part in at the YMCA;
Ashington Girlguiding Division - Lantern making.  Once you have made your lantern we will be having a Lantern Walk up and along to the Christmas Tree.
Ashington Veterans and Elders Institute - Diamond Art Christmas Decorations and painting wooden Christmas Tree Decorations
Ashington RSV Social Care - are running a FREE Hamper Raffle on behalf of Asda, and they will also have knitted baby items and cakes available for a donation to raise funds.
William Purvis Funeral Directors - Remember loved ones by writing a Christmas message for the Memorial/Remembrance Tree.
Northumberland Communities Together - Join carla in the YMCA lounge for festive facepainting.
Wansbeck Community Links - Meet the Social Perscribing Team who will have Christmas colouring sheets and wellbeing activities.
Ashington Co Op - Staff from Ashington Co Op will be giving away free mince pies and non alcoholic mulled wine.
Friends of Ashington Community Woods - Reindeer & Snowmen tree decorations & Christmas table decorations.
Northumberland Communities Together - Meet Carla from Northumberland Communities Together for facepainting. 
The Sewing Machine Guy - Ellen will be helping create personalised Christmas baubles using glitter, confetti, feathers, fill your own clear baubles, beads, ribbons and sharpie pens.
Mortal Fools - Papercraft festive house-making with Mortal Fools artist Mack Sproates, exploring what makes somewhere feel like home and using lots of fun festive papers and decorations to bring the houses to life. Ideal for families and young people of all ages.  
Citizens Advice Northumberland - with festive games, including a Christmassy wordsearch. 
Cambois Rowing Club - Come along and meet Cambois Rowing Club and have a go on a rowing machine.
Real Deal Plus - Have a go at making Reindeer and Santa masks.
Team Susie - Have a go at the free name the cuddly toy or guess the number of sweets in a jar. Team Susie will also be providing information on cancer awareness/prevention, promoting their free wellbeing walks and walking challenge event that are being held next year. 
Wansbeck Climate Action - Make a Christmas Card with Lynn and Margaret from the Wansbeck Climate Action Team.
ESCAPE Family Support - the team are coming along to do a FREE Tombola. 
Pride Action North - stop by and decorate a gingerbread man to take away for tea.
Ashington Hirst Running Club - Festive Fun Fitness. Running based exercises to festive music. 
Reiverdale Scout Group - Join the Scouts for some fun giant floor games.
NCC's Sports Development Team - the team will have some fun indoor games for everyone to take part in.
Koast Radio will be in the YMCA with some Christmas Tunes throughout the event as well as the Newbiggin by the Sea Salvation Army band and choir singing Christmas carols.
The following shops are remaining open late during the event.
Hog Roast Deli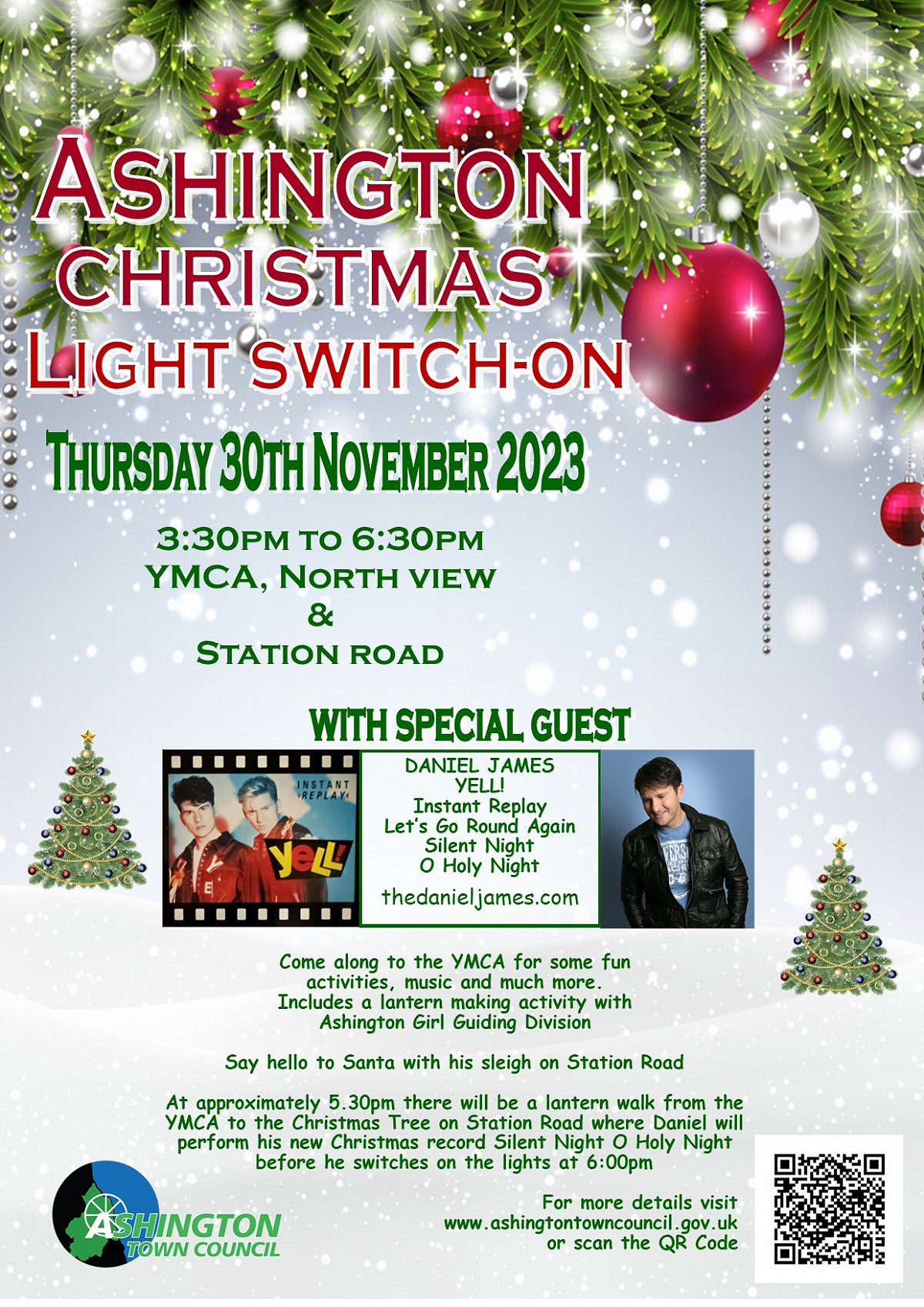 Organization : Ashington Town Council