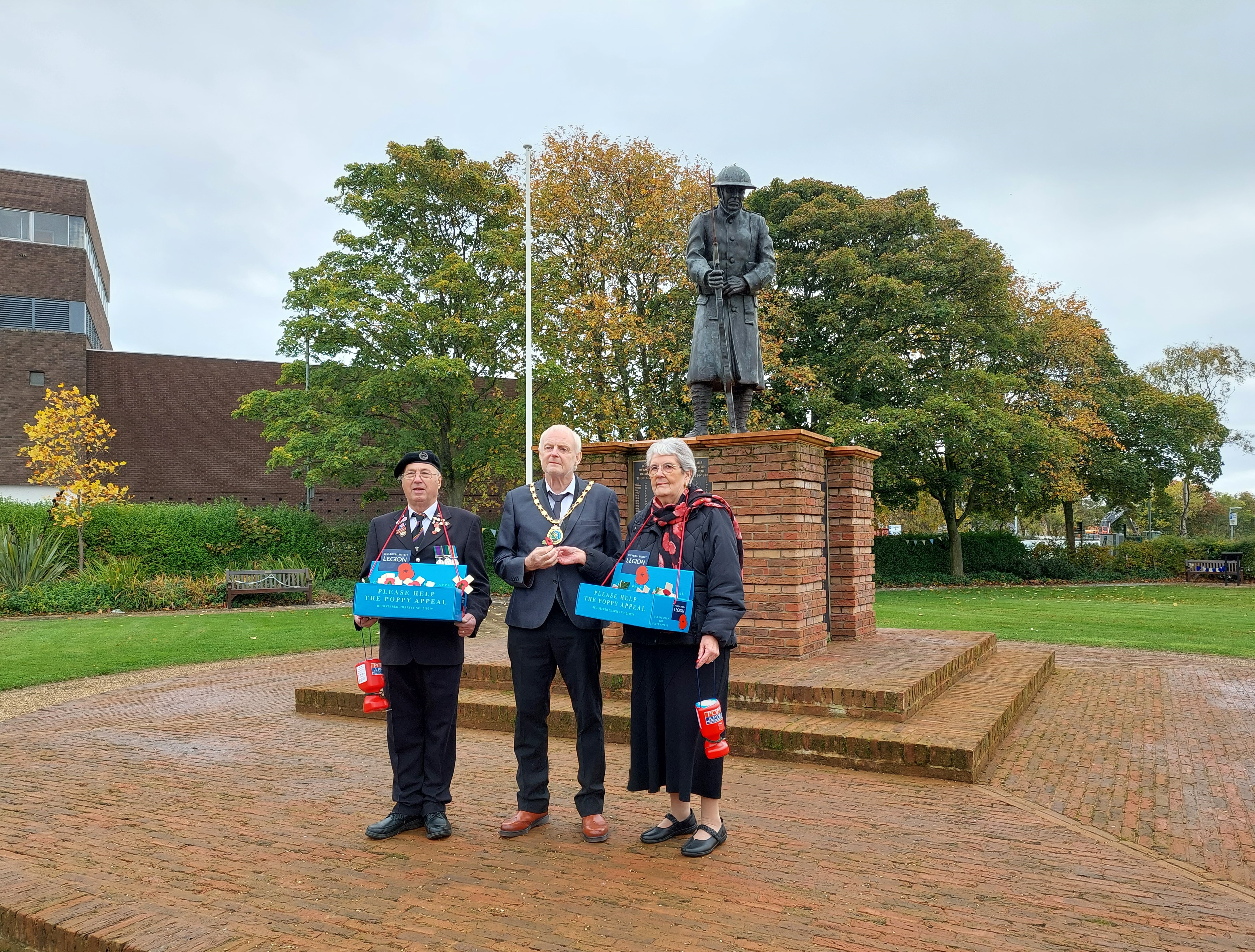 The Ashington Branch of the Royal British Legion will launch their annual Poppy Appeal on Thursday 27th October 2022.
The Appeal, in Ashington, last year raised over £20,000 for the important work of the Royal British Legion. In the photograph is Mr Phillip Rainger, the Ashington Poppy Appeal Organiser and Mrs Gloria Leitch, member of the Royal British Legion.
Mr Phillip Rainger said 'We are always grateful for the generosity of people from the Ashington area in supporting the Poppy Appeal in the run up to Remembrance Day. The work of the Royal British Legion is vitally important in helping members of our armed forces, veterans and their families as well as remembering those that have fallen'.
The Royal British Legion, with support from Ashington Town Council and Ashington Churches Together, have now finalised arrangements for the Remembrance Day Service on Sunday 13 November.

We will muster in People's Park car park where there are ample parking spaces. The march will head north up Institute Road and then turn right onto Station Road, marching east along Station Road, and then turning right again to march south down Kenilworth Road, and into the Ashington Memorial Garden.
The Service will be led by Father Toomey at 10.50am. Music will be provided by the Ashington Colliery Band and Ashington Music Society.
The Deputy Lord Lieutenant of Northumberland, will be attending the Service supported by Wansbeck MP Mr Ian Lavery, members of the Royal British Legion, the Civic Head of Ashington and members and staff from Ashington Town Council.
Cllr. Bob Walkinshaw, Civic Head of Ashington, adds 'We are hopeful that as many people as possible from the town join us for the Remembrance Day Service. The Memorial Garden provides an ideal setting for the Service and I have no doubt that the people of Ashington will once again turn out in large numbers to demonstrate the genuine pride and respect they have for members of our Armed Forces past and present'.
The traditional Remembrance Day Service will also be held at St. Andrew's Church, in Bothal, commencing at 3.00pm.