Young People's Groups
This page is for Community Groups and Organisations for young people to advertise their events and classes.
From our website, you can visit other websites by following links to such external sites. While we strive to provide only quality links to useful and ethical websites, we have no control over the content and nature of these 3rd party websites.
The links to other websites do not imply a recommendation for all the content found on these sites. Site owners and content may change without notice and may occur before we have the opportunity to remove a link which may have gone 'bad'.
To report an issue with any of the links below contact 01670 624520 or email clerk@ashingtontowncouncil.gov.uk
---
Mortal Fools
We are children's charity Mortal Fools - we are based in Ashington (head office) and Tyne Valley but we work across Northumberland, the North East and wider North – we work with children and young people ages 7-19years old.
At Mortal Fools, we believe access to creative interventions and equitable youth spaces are fundamental to unlocking and enabling happy lives, fruitful futures and dynamic employability. Everyone who works with children and young people has a part to play and it's an urgent and collective responsibility. Together, we can engage, enable and empower young people and join forces in scaffolding a better world to grow up in – one in which they feel safe, empowered, seen and heard.
Click here to see highlights our digital creative work and resources that are available to folks to use and enjoy in their settings.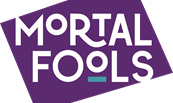 ---
Northumberland YMCA
Northumberland YMCA, based in Ashington, provides various activities and a safe place for young people to reach their full potential.
01670 857 167 / www.northumberlandymca.org.uk
---