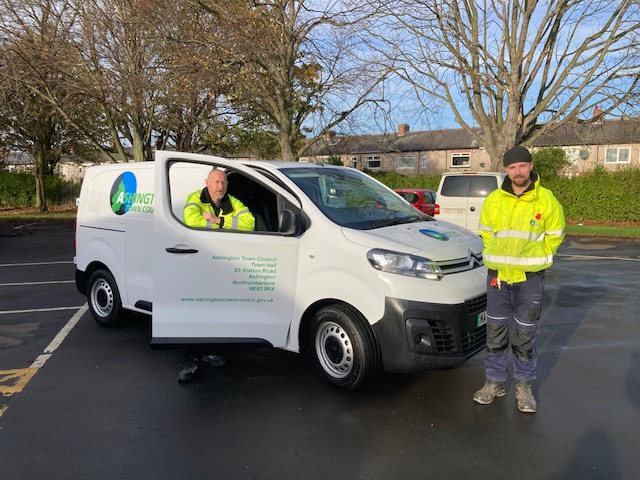 Ashington Town Council has taken delivery of a new electrical vehicle to support the maintenance of the town's assets including play areas, bus shelters and allotments.
In 2019, the Town Council become one of the first parish and town councils in Northumberland to formally adopt a positive motion and policy intent to play its part in addressing the challenge of climate change.
The town, with a current population of some 28,500 was in its industrial heyday regarded as 'the largest coal mining village in the world'. At its height the industry locally employed tens of thousands of people and sustained the community and local economy. The coal-mining industry is long gone and with it the large-scale local employment that made the town what it was and gave it the proud industrial tradition. It is perhaps fitting therefore that Ashington Town Council should lead the way in looking to play its part in addressing climate change.
In recent years, the Town Council has supported voluntary litter picking efforts across the town and developed tree planting schemes to help to offset carbon emissions, working with a number of community based groups. We have recently developed more sustainable planting schemes in the town centre as well as providing a Climate Change information stand on market day, as part of the Great Big Green Week.
In building on this work the Town Council has recently developed a Climate Change and Environment Committee. The Committee have recently agreed to further tree planting schemes in the town with over 80 trees to be planted in coming months close to busy highways. The Committee is also working with Northumberland County Council staff in reviewing waste management and increasing recycling in the town.
The new electric van, which has been purchased from Allingtons based in Ashington, will contribute to reducing carbon emissions in the town. Civic Head, Councillor Bob Walkinshaw, said,
'We recognise that replacing one vehicle in itself won't address the major climate change issues facing both our country and planet. However, we can all play our part in tackling carbon emissions and the Town Council looks forward to working with residents and community groups in coming months and years in tackling this major issue that affects us all.'
In the photograph is Ashington Town Council's Neighbourhood Services Officers Mark Air and Ryan Appleby with the new electric vehicle.
For more information on the Town Council's climate change work, visit Ashington Town Council Climate Change & Environment