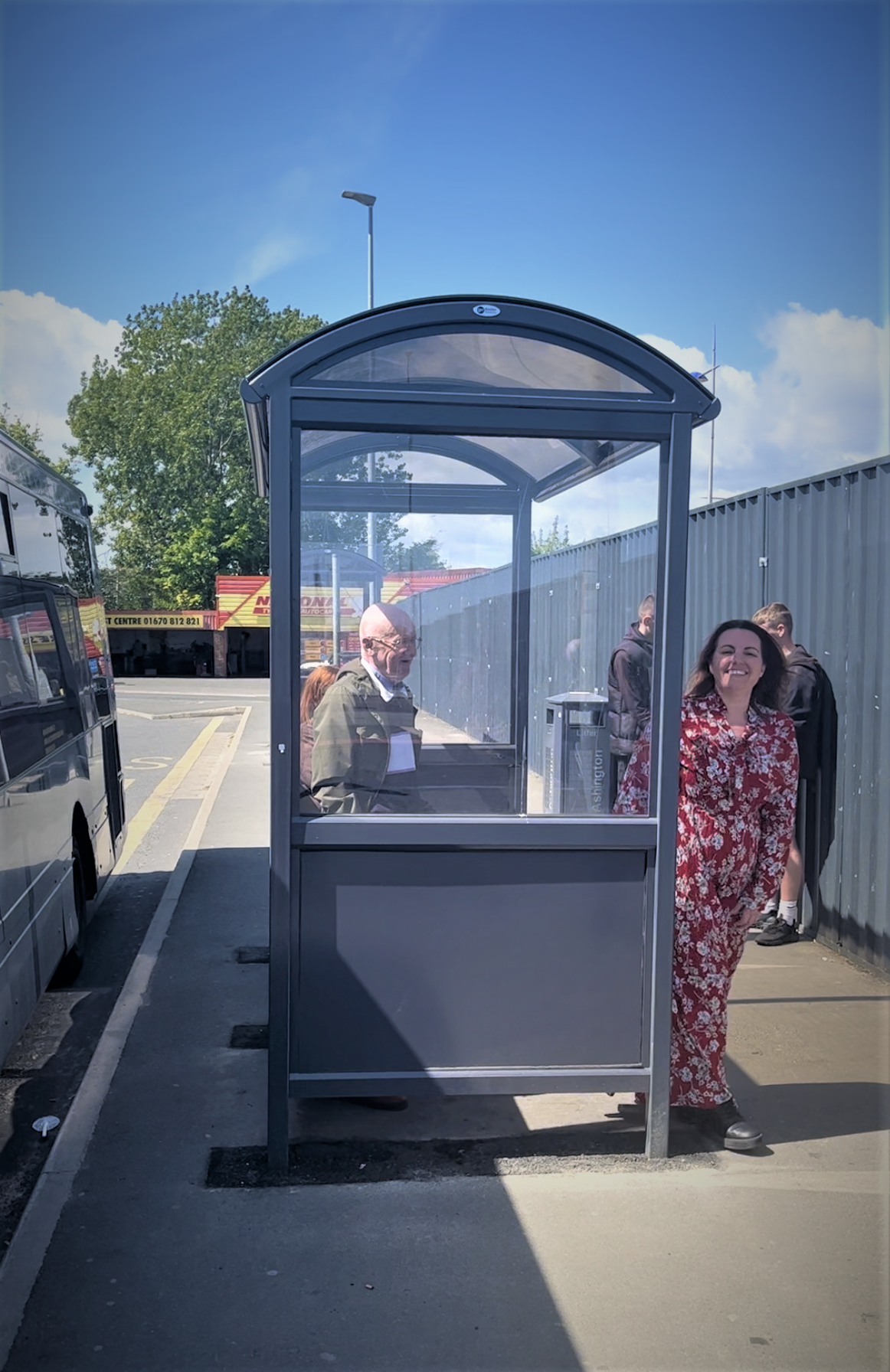 Ashington Town Council has exercised its power to provide and maintain bus shelters for several years. More recently, in addition to repairing shelters, the Council's Assets & Facilities Manager has identified those shelters requiring replacement, and the Council has planned to replace four shelters each year.
The planned replacement of bus shelters contributes to improving the appearance of the town, as well as our commitment to reducing carbon footprint. Taking a local bus emits a little over half the greenhouse gases of a single occupancy car journey, and helps to remove congestion from the roads.
Ashington Town Council agreed to install a new bus shelter on Woodhorn Road. This followed consultation with nearby residents and the recommendation of Hirst Ward Cllrs, Pauline Thompson, Sophie Robinson, and Victor Bridges.
County Cllr Lynne Grimshaw has supported, via her Members Local Improvement Scheme (MLIS), a new shelter on Station Road, adjacent to St. Aidan's Church.
County Cllr Caroline Ball has supported two new shelters at the Ashington Bus Interchange, Stand D.
The shelters being installed, from preferred supplier GW Shelter Solutions, are to a high specification, chosen as the Council hopes to promote a clear message; that we want to welcome visitors and shoppers to Ashington and to encourage the use of public transport throughout the town.
Funding of £6,432 from County Cllr Lynne Grimshaw and £12,975 from County Cllr Caroline Ball is separate to that being used to replace shelters in the next financial year. The four shelters being ordered in April will replace dilapidated shelters on Station Road (West) and Milburn Road (Garden City Villas).
Investment in bus shelters does not end with new provision, we continue to ensure shelters are cleaned frequently and that repairs are carried out quickly.
Watch this short video and keep following our news to keep updated about other shelters being installed and refurned in the town.
Requests for new shelters are received and considered by Ashington Town Council, please contact us.
Requests for additional bus stops are dealt with by Northumberland County Council as the Highway Authority. If you wish to propose a new site for a bus stop, please contact  highwaysprogramme@northumberland.gov.uk