Community Groups & Sports Clubs
What's happening in Ashington?
This page is for Community Groups and Organisations to advertise their events and classes.
From our website, you can visit other websites by following links to such external sites. While we strive to provide only quality links to useful and ethical websites, we have no control over the content and nature of these 3rd party websites.
The links to other websites do not imply a recommendation for all the content found on these sites. Site owners and content may change without notice and may occur before we have the opportunity to remove a link which may have gone 'bad'.
To report an issue with any of the links below contact 01670 624520 or email clerk@ashingtontowncouncil.gov.uk
---
Ashington Camera Club
Are you interested in photography but do not feel you have confidence enough to go out and capture those fabulous images you want to claim as your own?​
Are you not even sure where the on off button on your new the camera is?
Why do people talk about shutter speeds and points of focus?
It is all very confusing and daunting​
Would you like to learn more but are not sure what to do next?
Come and join us for 3 complimentary evenings, meet our members and enjoy a coffee in a warm and friendly environment.
St Aidan's Church Hall, Station Rd, Ashington, NE63 8AD
Meets Thursday nights 7pm – 9pm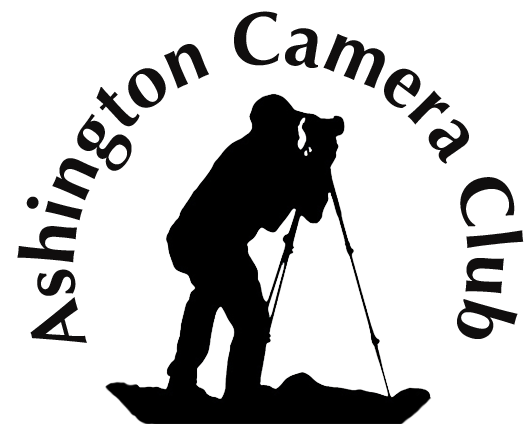 ---
Ashington Choi Kwang Do
At Ashington CKD we aim to teach this martial art as a practical and easy way to learn self-defence techniques that are suitable for people of all ages and abilities. It is an inclusive activity and even many with disabilities can participate and get much from the training.
Choi Kwang Do is a fun and exciting way to get and keep fit, to lose weight and firm up, to improve balance and coordination, to increase flexibility, to aid and improve concentration, as well as to promote longevity. This is done in a friendly, safe and fun learning environment.
We are now based at St. Andrew's Church Hall
For more information contact Richard Farrar on 07954578018 or visit our website at www.ashingtonckd.co.uk or find us on Facebook at Choi Kwang Do Ashington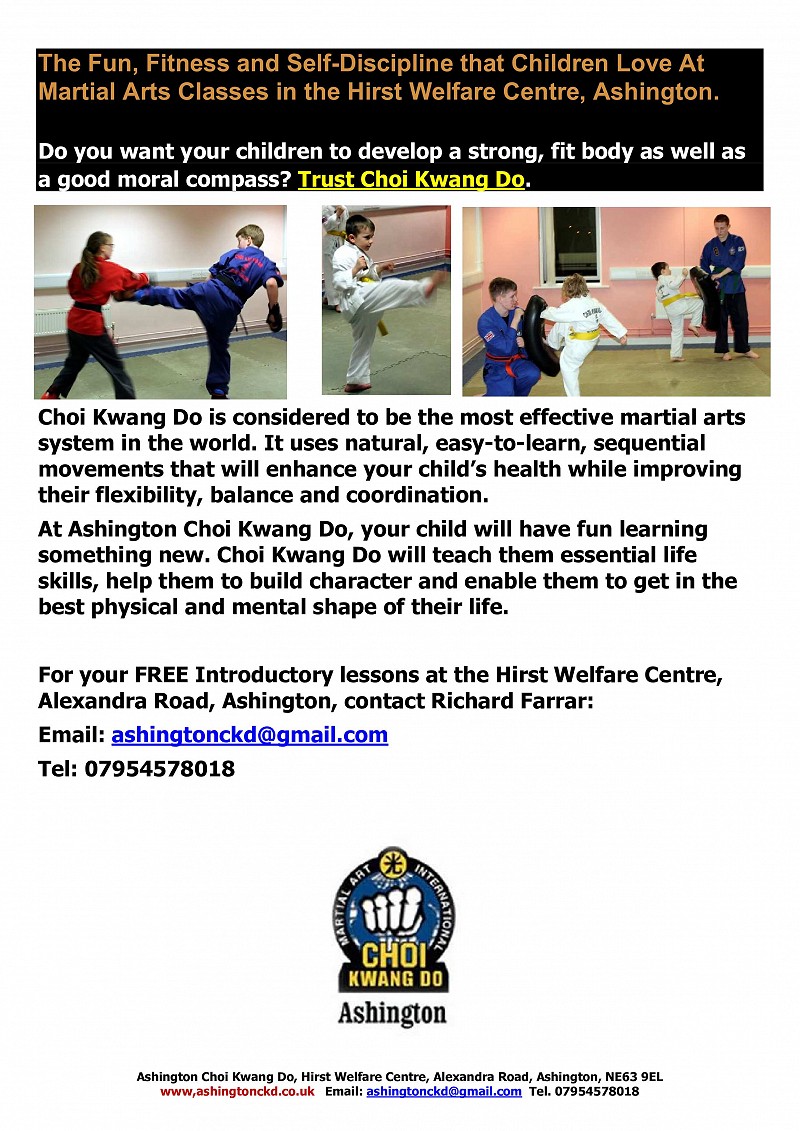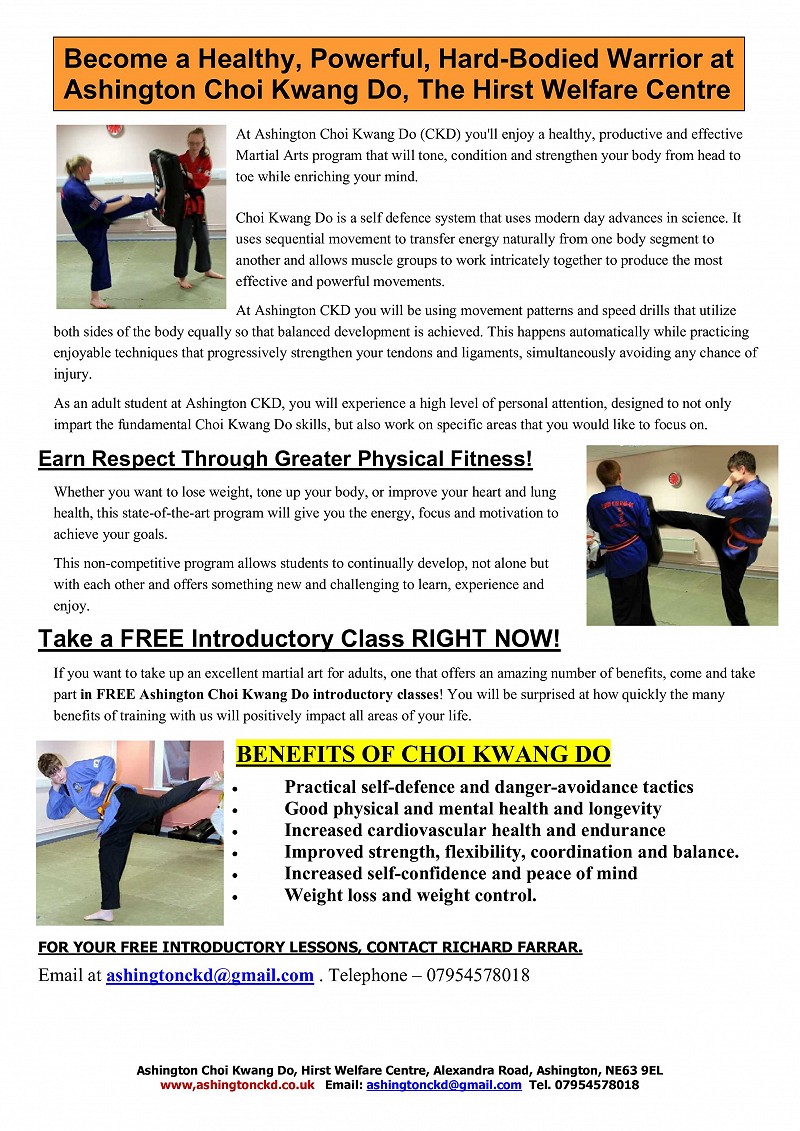 ---
Ashington & District u3a
u3a is a UK wide organisation that provides the opportunity for those no longer in work to come together and learn for fun.
Benefits of joining u3a
Joining your local u3a is a great way to find and develop new interests and make friends in a relaxed environment. It doesn't cost much to join a u3a near where you live, usually less than £15.
Reasons to join:
Make a difference, stay active, keep learning and have fun
Get out to meet face to face – learning together and making the most of life
Access to online learning, training and resources to inspire you. Members can attend learning events and talks for free
Meet other people with similar interests: learn new things and share your skills.
Ashington & District u3a
MAKE NEW FRIENDS, LEARN NEW THINGS & ENJOY LIFE
Ashington & District u3a recruits members from coast to countryside. Members hail from Ashington, Blyth, Ellington, Cramlington, Widdrington, Newbiggin By the Sea to name but a few.
The area has a long industrial history which is now commemorated at Woodhorn Colliery Museum, Blyth Battery and Newbiggin Maritime Centre
Our membership is growing and follows the ethos of u3a which is Learn, Laugh and Live. Our u3a gives people the opportunity to socialise, make friends and take up new interests at our monthly meetings and our many and varied interest groups.
Come along to one of our monthly meeting as a guest to find out what we are about and join our u3a to allow you to participate in any interest groups. Annual Membership Fee for 2023 is £13.
MONTHLY MEETING is held in the Holy Trinity Church Hall, Station Road, Ashington, on the Second Thursday of the month, 12:45 – 3:00 pm. There are speakers at each meeting covering a wide range of subjects of interest to members. Refreshments can be purchased giving time for a chat followed by monthly business.
FOR FURTHER INFORMATION PLEASE CONTACT:
Membership secretary Dave Walker using contact tab on our website to get in touch or ring 07873 777806. Website: https://u3asites.org.uk/ashington/home
---
Ashington Hirst Running Club (AHRC)
Ashington Hirst Running Club is a UK Athletics affiliated running club. We are based at Ashington Rugby Club, Ellington Road, Ashington , NE63 8TP.
Club regular sessions are:
Tuesday Run & Run/Walk Groups or Effort Session – 6.30pm
Thursday Run & Run/Walk Groups/Hill training or endurance run – 6.30pm
Friday Run Group – 6.30pm
We have lots of different sessions for all abilities from absolute beginner to more experienced runners.
More information is available on our website - http://www.ashingtonhirstrunningclub.co.uk

---

Ashington Sea Cadets
At Ashington we aim to give young people aged 10 to 17, an experience that will help them grow into the person they want to be in a safe and friendly environment.
Through various activities and adventures, we learn teamwork, respect, loyalty, self-confidence, commitment, self-discipline, honesty and how to be the best version of ourselves.
All volunteers have the opportunity to be part of a committee.
Visit https://www.sea-cadets.org/ashington for more information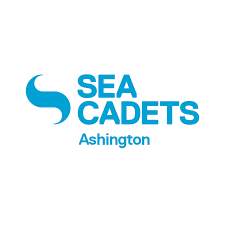 ---
1110 Ashington Squadron Air Training Corp
1110 Ashington Squadron Royal Air Force Air Cadets is recruiting new cadets, if you have an interest in aviation and the RAF then this is the organisation for you.

If you are aged 12 and in year 8 at school then you are old enough to join us.

How do you spend your weekends, would you like to try some of the following activities:

Flying, gliding, shooting, sports, music, DofE, adventure training, drill & ceremonial…

If your answer is yes, then come along and learn more about #whatwedo and challenge yourself.

Visit our Facebook Page here.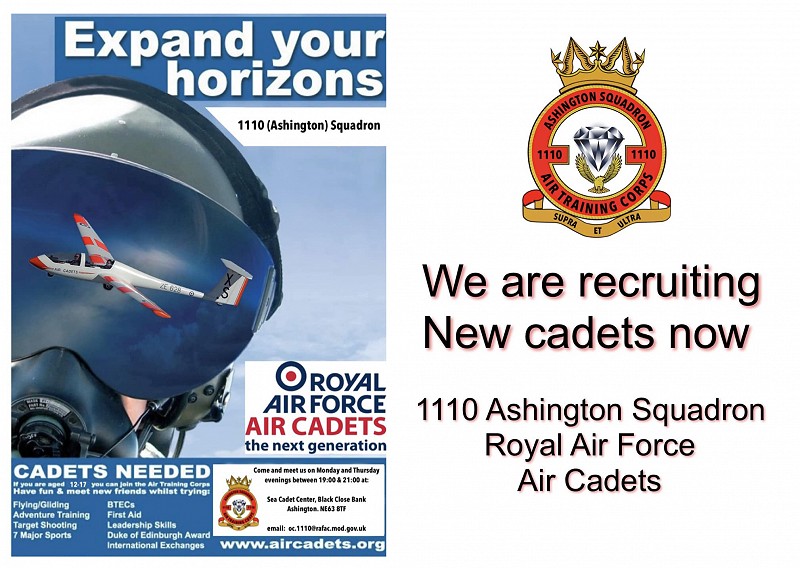 ---
Age UK Northumberland
Age UK Northumberland has launched a new scams prevention and support programme for older people in Northumberland.
The programme, funded by Lloyds Banking Group, will help to prevent older people from falling for scams by increasing their knowledge and confidence to recognise and deal with attempted scams. It will also provide support to older fraud victims recovering after an incident.
Older people can be particularly vulnerable to fraud and scams, which can have a serious emotional and financial impact, and can damage quality of life and wellbeing for many.
Sophisticated scams have been on the rise during the pandemic with criminals devising even more ways to target those they believe to be vulnerable. This means it's even more vital to support those that may be at greater risk.
Amy Whyte, Head of Charitable Services and Operations at Age UK Northumberland said: "We're really pleased to be launching the Age UK Scams Prevention and Support Programme across Northumberland. Scams can have a devastating effect on older victims - in England and Wales an older person becomes a victim of fraud every 40 seconds, which is over 800,000 older people every year. This shows us just how important this programme is to try and keep the older people in Northumberland as safe as possible when it comes to financial crime."
To find out more about Age UK Northumberland's Scams Prevention and Support Programme, please visit https://www.ageuk.org.uk/northumberland/, or contact us on 01670 784 800.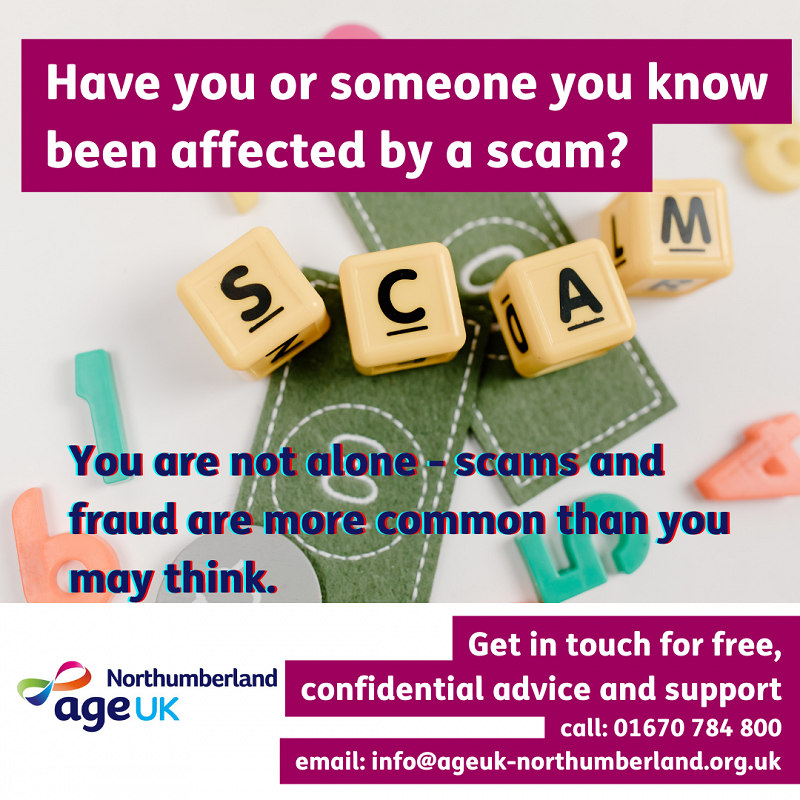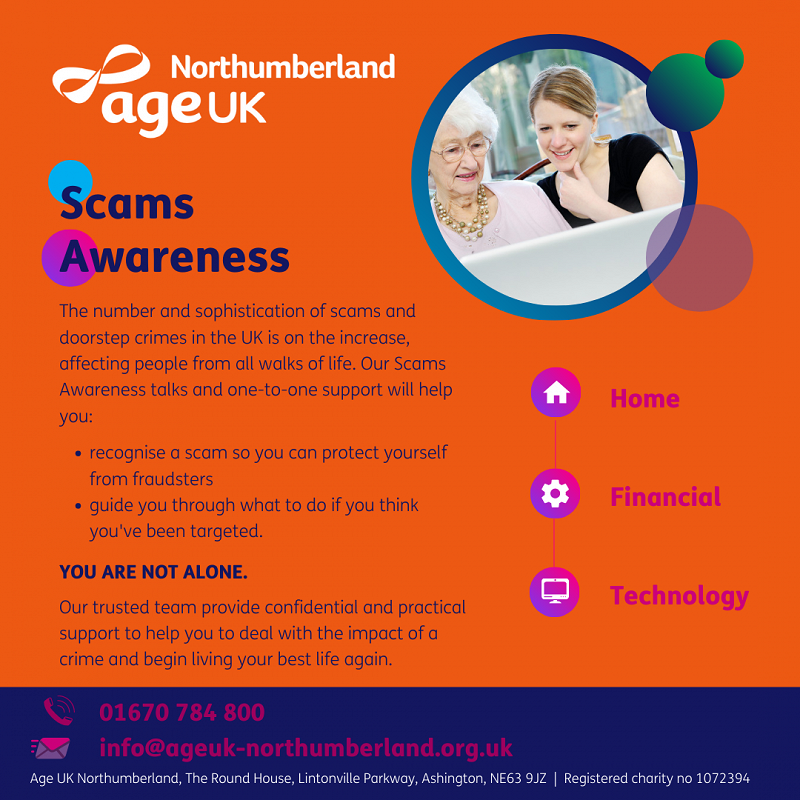 ---
Ashington & District Male Voice Choir
'Ashington & District Male Voice Choir id a community choir which welcomes gents of all ages who simply have a wish to give 'singing a go'. No auditions. no need to be able to read music nor a need for experience. Prospective members come along for six week to see if it's for them and only then is a small membership fee requested. The choir has two major concerts each year but also perform for community and voluntary organisations who are raising money charitable purposes. Weekly rehearsals give the opportunity for members to enjoy a social evening whilst mastering the selected repertoire. Just come along to Stakeford & Bomarsund Welfare at 7-00pm on Thursday or vist us on Facebook or our Website.

The choir are available throughout 2022/23 for charity events contact us for details. 01670 815534
Click here to visit Ashington & District Male Voice Choir Website
Click here to visit Ashington & District Male Voice Choir Facebook Page

---
Ashington Veterans and Elders institute
Ashington Veterans and Elders institute hold open coffee mornings every first Saturday of every month.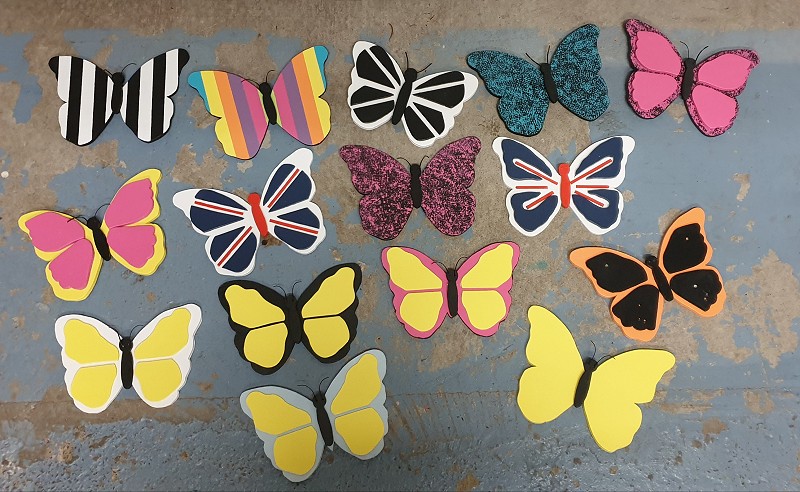 They all run from 11am until 2pm. All food sold is home made. We hold a raffle on the day too.
We also sell items we produce to raise money for The NHS and for SAAFA and funds stay local. We sold garden flowers last year and this year we are selling garden butterflies.
We also have Queen's Platinum Jubilee events coming up later in the year, so watch this space.
Click here to visit the AVAEI Facebook Page
Click here to visit the AVAEI website
---
BE YOU Emotional Wellbeing Support
Emotional wellbeing support for parents and carers of children and young people in the trailblazer areas of Ashington, Bedlington, Hexham, Blyth or being home schooled.
Children and Young People have suffered massively due to the pandemic and restrictions which increases the pressure on parents - who are already going through a hard time at the moment, so please spread the word. This is time-limited, the funding is only available to run sessions this year, but hopefully, if the need is there those in charge will see that this sort of help is needed for longer than a year.
Northumberland has been selected as one of 25 Trailblazer areas to develop programmes that improve young people's mental health and the 'Be You' team was created by Northumbria Healthcare NHS Trust and Northumberland County Council with the aim of offering emotional health and wellbeing support to children, young people and adults giving them access to information and services. Cygnus Support is part of this bigger team providing mental and emotional support at the earliest signs of needing help.
If you have any questions or want to talk to Amanda please call on 07377265036 or email amandasayers@cygnussupport.com; if you want to read more here's the link to the Cygnus Be You web page Welcome to Cygnus Support and the NHS Trailblazers Be You web site Homepage | NHS Trailblazers (beyounorthumberland.nhs.uk)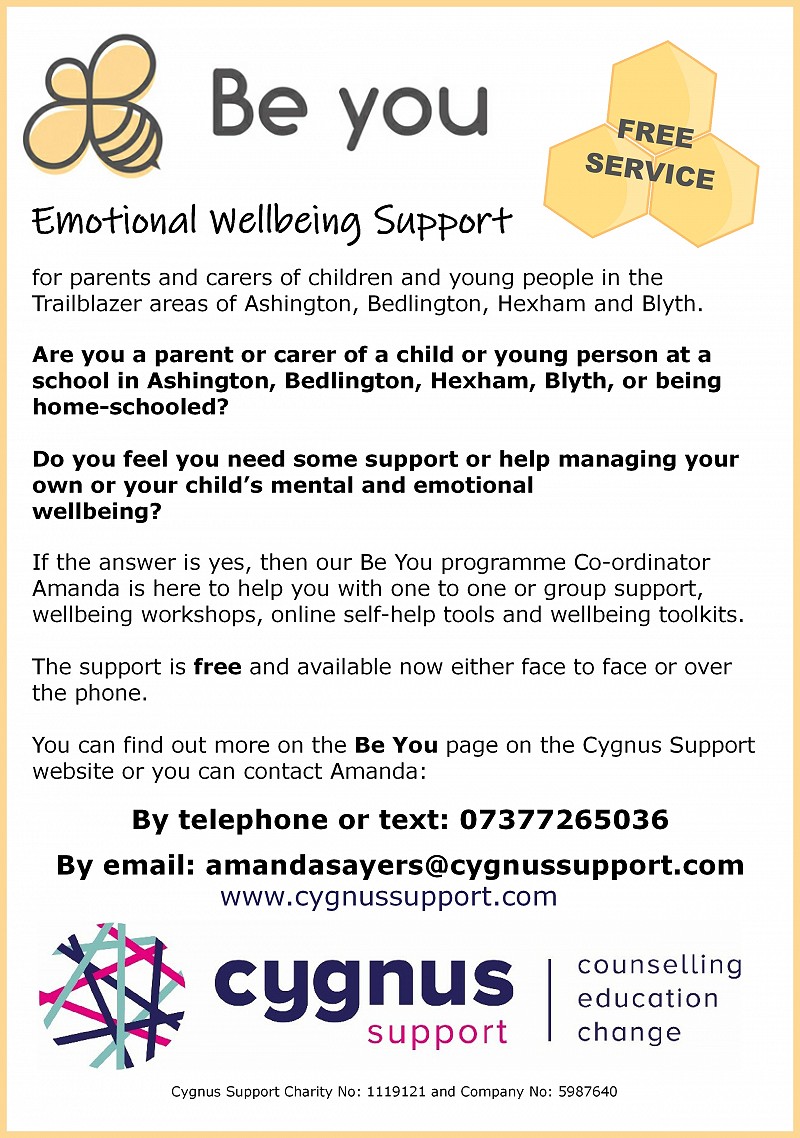 ---
Climate Action Wansbeck
What We Do.
Work with residents of South East Northumberland and surrounding areas to mitigate and minimise the effects of Climate Change, increase biodiversity, encourage sustainability, and work in partnership with other organisations and groups who share the same purposes.
To find out more email climateactionwansbeck@gmail.com or visit our Facebook page here
---
Cycle4Everyone
Background information for Ryder Architects
About Us
Cycling4Everyone (North East) limited, is a social enterprise operating as a cycle training provider and active travel advocate aiming to promote and support the increase of safe cycling through Bikeability cycle training (the new cycling proficiency test), bike repairs and teaching cyclists to fix their bikes - keeping cyclists' bikes safe and bikes in good order. Registering for Companies House in 2019, C4E became a going concern through the Hirst Park Project in 2022.

Background to the Ashington Cycle Hub
During 2020/21 'Cycle With Jan' (Jan Chisholm - C4E director and founder) ran a number of cycle training courses for local residents (particularly for asylum seekers and job seekers). This activity was initially funded by Northumberland County Council and Northumberland County of Sanctuary. Both funders recognised the need and potential for a cycle maintenance service, cycling training and development in Ashington - particularly the Hirst Park area. These activities facilitated dialogue with Full Circle Food Project and the outcome achieved: C4E was offered the FREE use of some workshop space for our Hub to operate on a Tuesday 10am - 3pm. C4E further tested the demand with a one-off Dr Bike session (funded by another project) offering free bike repair. The large numbers attending in January 2022, not typically a busy time of year in the cycling world, provided us with strong evidence of the demand from the Hirst Park area for a more permanent cycle repair workshop. Following an offer from the Full Circle, the free use of their workshop on a Tuesday, a mechanic was secured by C4E, (paid for by the Full Circle) to open a bike repair workshop. The mechanic and C4E director Jan (volunteering) attended every week to develop the project further, starting C4E's journey for putting a new Cycle Hub in Ashington utilising the Full Circle Food workshop and Hirst Park's free outdoor spaces, which offer an excellent safe cycle training area.
You can read more about Cycle4Everyone here
To keep up to date with all the latest news and classes visit; Cycling 4 Everyone | Facebook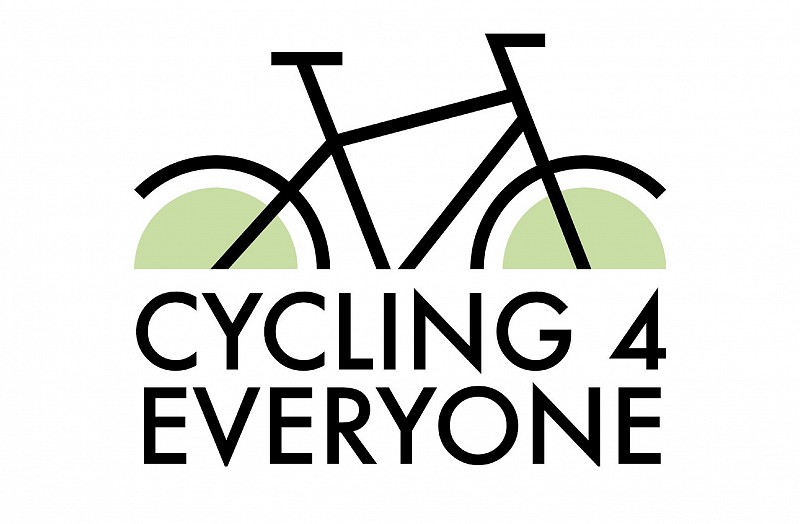 ---
Koast Radio
Koast Radio 106.6 FM, and available online. Your favourite local community radio for South East Northumberland.
"Your Station. Your Music. Your Choice"
Koast Radio has been operating since May 2010 and is the only community radio station within South East Northumberland with an FM broadcasting licence from OFCOM. We have a mixed and varied broadcast schedule with live shows daily from 7am in the morning up to Midnight, 7 days a week on 106.6 MHz on the FM waveband across South East Northumberland. Koast Radio also simultaneously streams its broadcasts online making them available anywhere through applications such as Tune In app.
Our regular schedule includes general and specialist music programmes, business & community shows, local sports and programmes showcasing local talent. We also deliver live outside broadcasts from within the community, supporting local events, businesses and community groups.
"NOT-FOR-PROFIT" Koast Radio "Marketing Pack"…
In order to make more of our local community businesses aware of this "cost-effective" method in which they can promote themselves within our Ashington and County Northumberland areas, as well as further-afield.
Click here to view the marketing pack.

---

Mortal Fools
We are children's charity Mortal Fools - we are based in Ashington (head office) and Tyne Valley but we work across Northumberland, the North East and wider North – we work with children and young people ages 7-19years old.
At Mortal Fools, we believe access to creative interventions and equitable youth spaces are fundamental to unlocking and enabling happy lives, fruitful futures and dynamic employability. Everyone who works with children and young people has a part to play and it's an urgent and collective responsibility. Together, we can engage, enable and empower young people and join forces in scaffolding a better world to grow up in – one in which they feel safe, empowered, seen and heard.
Click here to see highlights our digital creative work and resources that are available to folks to use and enjoy in their settings.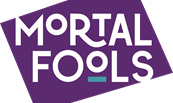 ---

Northumbria Scuba Divers
We are Northumbria Scuba Divers, based in Northumberland and around the Ashington area, we offer courses and internationally recognised certifications, our courses are subsidised and that makes us one of the cheapest in the U.K. we offer training from absolute beginners to instructors, from ages 8 and up. We teach in Seaton Deleval, and dive all along the North East coast, we have our own boat, and dive the Farne islands almost weekly.
We do charge a £10 monthly fee which gives access to our trips and events, as well as discounted courses.
We are currently seeking funding to allow us to start a scholarship scheme , we accept entry from anyone despite their background or affiliation, so if people already have a certification then they are welcome to join.
For more information vist the Northumbria Scuba Divers website here