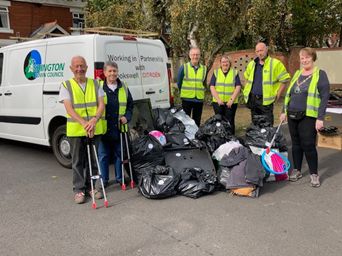 Activities have taken place as part of the Great Big Green Week last week (18 to the 26 September).
The aim of the initiative was to raise awareness and develop plans for our climate and nature in the run up to November when the United Kingdom will host the United Nations Climate Summit (known as COP26).
Events celebrated how communities are coming together to take action to tackle climate change as well as protecting and enhancing our much valued green spaces.
In Ashington the Town Council organised a litter pick that took place in and around the recently regenerated Hirst Park. The event took place on Saturday (25 September) and over fifteen bags of rubbish were collected as well as an old television set!
In the photograph, above, are Cllr. Pauline Thompson, Civic Head of Ashington, (far right) and Cllrs. Louis and Vicky Brown (far left) with staff and some of the rubbish collected. We thank all who took part in the effort.
The Town Council has recently developed a Climate Change & Environmental Issues Working Group, following the adoption of a motion to tackle Climate Change (prior to the Covid-19 pandemic).
The Working Group are now formulating plans to raise the issues of climate change as well as developing practical projects to tackle the issue at a local level, including significant tree planting across the town. Further litter picks will also be organised as part of the Keep Britain Tidy clean up campaigns.
For more information on the Great Big Green Week visit Great Big Green Week