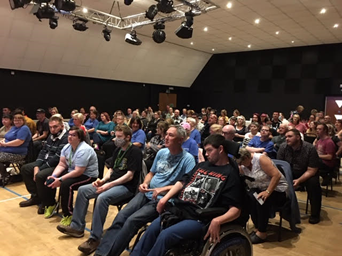 The Alligator Klub's 10th Anniversary celebrations took place last week (23 – 25 September) with a range of events that were enjoyed by over 500 people in Ashington.
The Alligator Klub provides social activities, mainly through a monthly nightclub for adults over 18 with disabilities and their families from across Northumberland. Beneficiaries have a variety of disabilities such as delayed development, autism, asperger's, cerebral palsy, downs syndrome and general learning issues.
An inclusive Music & Performing Arts Festival was organised to celebrate the decade of work and saw performers from television and stage visit Ashington for a range of performances and interactive activities, taking place at YMCA Northumberland and the Masonic Hall over three days.
On the Thursday evening Lee Ridley, the Lost Voice Guy and winner of Britain's Got Talent in 2018, took to the stage supported by Aukestra who are made up of mostly autistic musicians from across the North East.
A wide range of interactive activities and workshops took place on the Friday and Saturday that included music, dance, theatre, comedy and circus skills.
The Festival ended on the Saturday evening with the 'In The Spotlight' Variety Show. The event was hosted by Music Spark, from the Sage Gateshead, and included performances from various artists as well as those who had participated in the workshops.
Leanne who took part in the activities and performed in the variety show said 'I have had the best time in the world and thank you so much for organising this festival'. Natasha said 'It was such good fun, I loved the music and meeting friends'. James adds 'I loved the dancing and we had such a great time'.
Over 50 students from Brightside Adult Services, who provide specialist services and educational opportunities for 18-35 year olds, took part as well as users of the Parkhead Resource Centre. Michelle Wood, from the Centre said 'It was an absolutely wonderful event'. Matt Sokell, of Sage Gateshead, who provided some of the activities, added 'It was great to be part of such a positive occasion'.
Pauline Thompson, Chair of the Alligator Klub, said 'We are delighted that the Alligator Klub has now been running for 10 years and the inclusive festival was a great way to celebrate our work over the past decade. We are thrilled at the numbers who took part and the lovely comments and the thanks that we have received. We thank all the organisations who took part and supported the festival. The Alligator Klub brings together adults with learning disabilities to meet in a safe environment to enjoy music and friendship and we look forward to the next 10 years!'
The Festival was funded by the National Lottery funder Awards for All and supported by Sage Gateshead, Bad Apples North East, YMCA Northumberland and Ashington Town Council.
For more information find the Alligator Klub on Facebook or call 0775 777 6517.