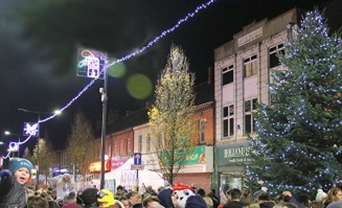 Ashington's Christmas Lights and Tree will be installed in the town centre in the next two weeks. However, due to continuing Covid-19 concerns a decision has been taken to cancel this year's Christmas Lights Switch-On event.
We do hope however that the genuine reasoning is understood at this time and that it is recognised that the health, safety and welfare of everyone has to be our priority.
As in previous years new Christmas lighting features, designed by Ashington school children, will be part of the display. This year will see five new features placed close to the town's Christmas tree on Station Road.
The designs are from an annual competition, organised by Ashington Town Council, with schools in the town. Ashington children have designed new lighting features for the past eleven years and this year saw seven schools entering the competition with five winning designs developed into new lighting features. Over 700 entries were received by the Town Council and we thank all the schools who took part particularly at this very challenging time.
The Switch-On event is organised by local organisations working alongside Ashington Town Council including YMCA Northumberland, Northern Funfairs, Northumberland County Council, a number of community groups as well as schools from across the town.
The five winners of the Christmas Lighting Competition will be unveiled shortly - keep an eye on the Town Council's website and social media over the next few days!
Each child will receive a letter from the Civic Head, a certificate, a special prize for winning the competition as well as seeing their feature placed next to the town's Christmas tree this year.