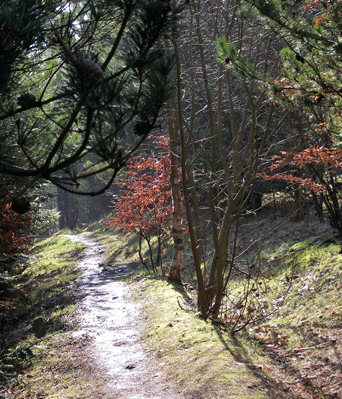 Ashington Community Woodland is a fantastic green space close to the town centre.
A guide, available to download below, provides 8 interesting walks around the woodlands for a range of abilities. The guide has been developed by Friends of Ashington Community Woods with support from Groundwork NE, Active Northumberland and Walking for Health.
Ashington Community Woodland is a large woodland on the former Ashington Colliery site. This green space covers approximately 135 hectares, lying immediately to the north of the centre of Ashington, with access over the railway line next to the Police station. The woodland boasts a colony of red squirrels.
The Friends of Ashington Community Woods group contribute to the very important ongoing maintenance and success of the woodland. Volunteers from the group carry out essential woodland management tasks such as path maintenance and wildlife habitat creation as well as organising community events.
For more information on volunteering in the woods or to get involved (when activities commence after the covid-19 lockdown) call: 01670 514 876 or find the group on Facebook.