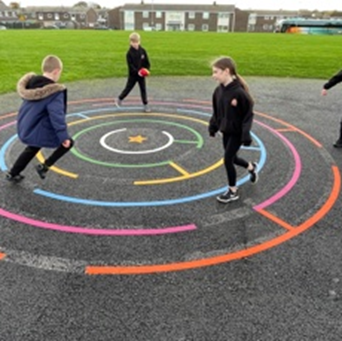 A project to improve the outdoor play areas at a primary school in Ashington has had an unprecedented impact on the mental health and wellbeing of its pupils.
In the aftermath of the Covid-19 pandemic, as many schools across the country continue to struggle to find a balance between getting back to 'normal' and keeping infection rates down, children at Bishop's Primary School are supporting their own relationship recovery through the power of play.
After so many months spent in and out of lockdown and kept apart from their peers through the necessary enforcement of class bubbles and social distancing, pupils are exploring what it is to socialise and are self-teaching themselves the all-important skills of teamwork, collaboration and communication through a series of new interactive playground markings which have been installed in the school's outdoor spaces.
Clare Marriott, Headteacher at Bishop's Primary School, commented 'Play has become a particularly important aspect of children's learning, especially since lockdown. Our outdoor spaces were looking a little tired and in need of improvement so we decided that, instead of just repainting our original sports court markings, we would include some fun, interactive playground markings to encourage children to play together and learn at the same time. We have provided a range of interactive number caterpillars, hopscotches, mazes and trails and alphabet jumps. We also purchased a range of hula hoops, bats and balls and skipping ropes to further develop playtimes and lunchtimes for our children.'
'While we anticipated that the pupils' response to the changes would be a positive one, we've been absolutely overwhelmed at what we've seen in just the few short weeks since the work was carried out. We've got children from different year groups playing together, we've got children supporting each other with the different games, we've even seen children encouraging their parents at home time to have a go on the hopscotch! The dance mat in particular has become a firm favourite with both pupils and staff, so much so, that we've now added a portable music system and disco lights!
'The impact to date has seen a dramatic transformation in the quality of children's play. The children are happier, more active and more engaged in the classroom after every break time. By making free play a key priority of our School Action Plan, we will ensure the impact is sustainable and long lasting for relationship recovery, learning and play. Going forward, we want to install more markings and some wall mounted games too. We have also booked some skipping tutors to work with every class to teach the children some classic skipping games.'
Bishop's Primary School offers provision for children aged 2-11 and operates as part of Northumberland Church of England Academy Trust. For more information, visit Bishop's CofE Primary School | Part of NCEA Trust https://bishops.ncea.org.uk/