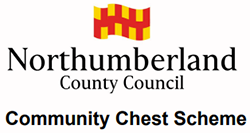 Do not miss out on the opportunity to apply for funding to Northumberland County Council's Community Chest Scheme.
Community groups, charities and social enterprises are eligible to apply, this includes school PTAs and community sports clubs.
The next deadline is Friday 14th January 2022.
Visit the County Council website for an application form and more information about how to apply. You can also watch videos showing those groups that have been successful in the past.