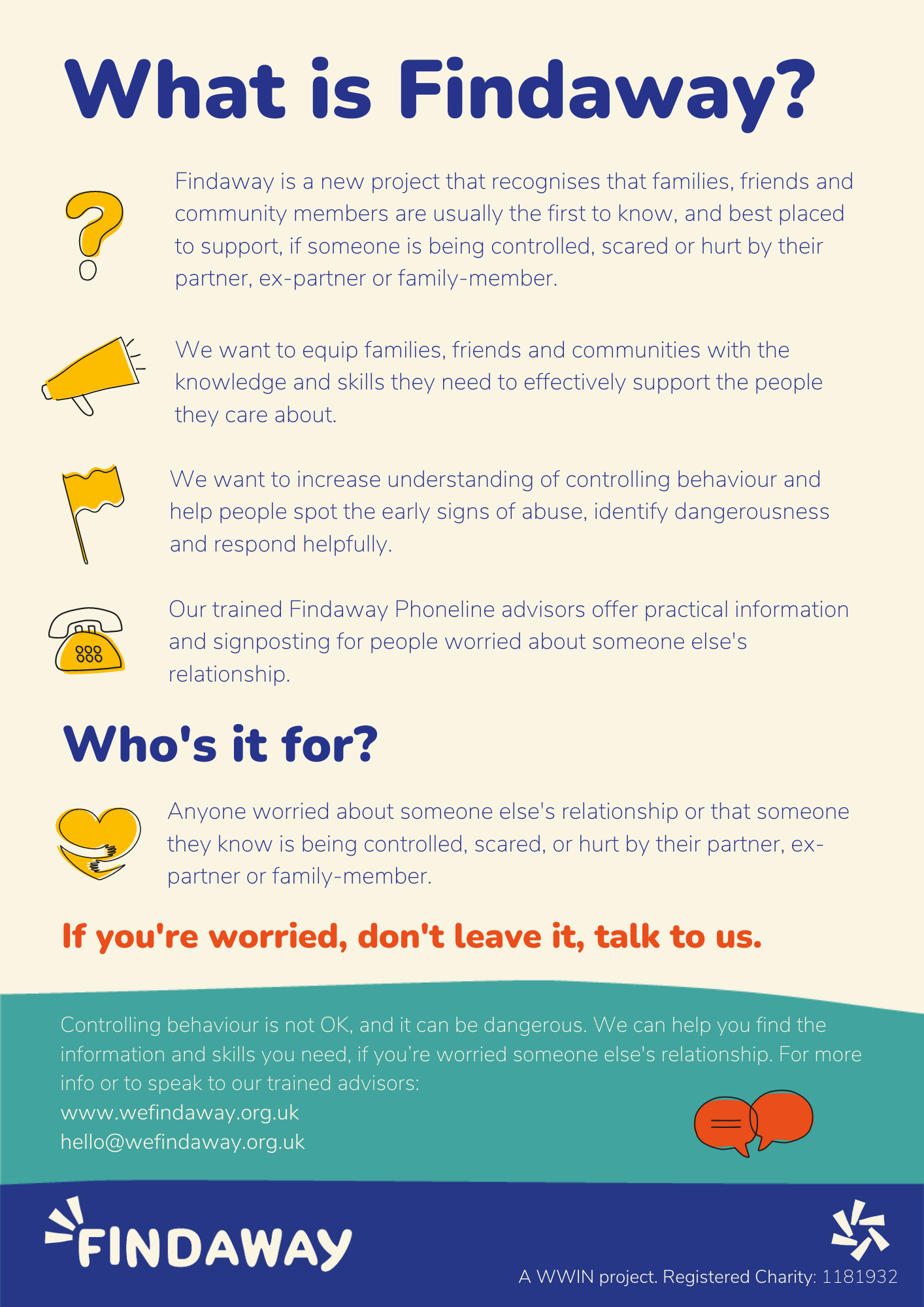 Introducing a new project that the Office of the Police and Crime Commissioner's PCC/Violence Reduction Unit is supporting across Northumbria called Findaway. This project recognises that families, friends and community members are usually the first to know, and best placed to support, if someone is being controlled, scared or hurt by someone they love. This project fills a current gap in the response to domestic abuse. It is not aimed at victims or perpetrators as there are already services in place providing that support – instead it is aimed at those informal networks who are close to the victim or the person who is causing the harm.
Findaway therefore wants to equip families, friends and communities with the knowledge and skills they need to effectively support the people they care about. Currently people can request a callback via the Findaway website but as part of this new service there will be a Findaway phoneline that will be staffed by trained advocates, for people worried about someone else. The service is open to anyone from Tyne and Wear and Northumberland and resources and training are in development.
As well as letting you know about this new service and its website, Findaway also needs your help!
We want to hear from you if you've ever been worried about someone else's relationship, or have supported someone you care about to cope with a controlling or dangerous relationship.
Can you help us by taking part in our survey or sharing it with your families, friends and other networks?
The answers will help us create resources and improve pathways for others who are worried about someone they care about.
Our survey: https://tinyurl.com/wefindaway
To keep up to date with the project follow Findaway on social media or sign-up to the mailing list via the website:
Twitter: @we_findaway
Instagram: @wefindaway.org.uk
Facebook: @wefindawaytosupport
Website: wefindaway.org.uk