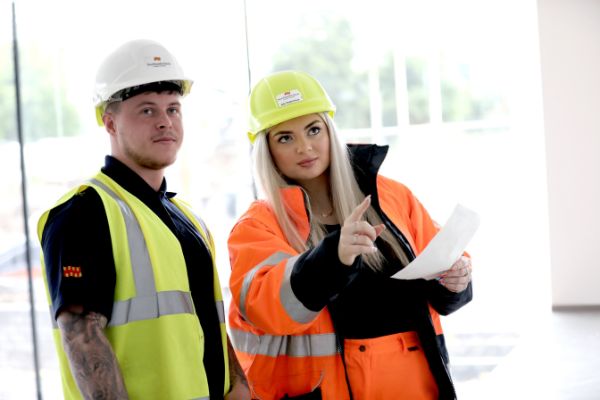 Northumberland County Council has vacancies for more than 60 apprenticeships, offering a range of career opportunities for people across the county.

The recruitment drive is part of the council's ongoing commitment to provide high-quality career pathways, with over 400 new recruits starting their career journeys via an apprenticeship in the last three years. Entry and higher-level roles are available across many different departments, from construction to social care from Level 2 to Level 6 Degree Apprenticeships.

Civil Engineering Apprentice Darcy Russell is using her apprenticeship to fulfil her ambition: "My apprenticeship is only the beginning; next I want to go onto a degree apprenticeship and in the future become a site manager.

"My apprenticeship has given me the confidence to reach for my goals, so if you're thinking about doing an apprenticeship, just go for it."

Cllr Richard Wearmouth, Cabinet Member for Corporate Services added: "An apprenticeship with Northumberland County Council is only the beginning, with colleagues and managers giving you the support and encouragement you need to excel.

"Over 100 apprentices have been recruited in the past year alone. Supporting home-grown talent, keeping skilled workers in the region and enabling learners to reach their full potential is what apprenticeships are all about."

Apprenticeships are open to everyone aged 16 and over not in full-time education. They can take between one to six years to complete, depending on the level chosen and whether candidates have any prior experience, all whilst earning a wage.

Whether you are looking for an apprenticeship now, or considering it in the future, don't miss out on this opportunity to join one of the region's largest employers. Apply for one of over 60 available roles: nland.uk/Apprenticeships (link opens in a new window)

For information about apprenticeships with Northumberland County Council go to www.northumberland.gov.uk/apprenticeships, (link opens in a new window) email: apprenticeshipenquiries@northumberland.gov.uk or texting 'APPLY' to 07929 746545.
Apprenticeships available - apply now
Read on Northumberland County Council Website here