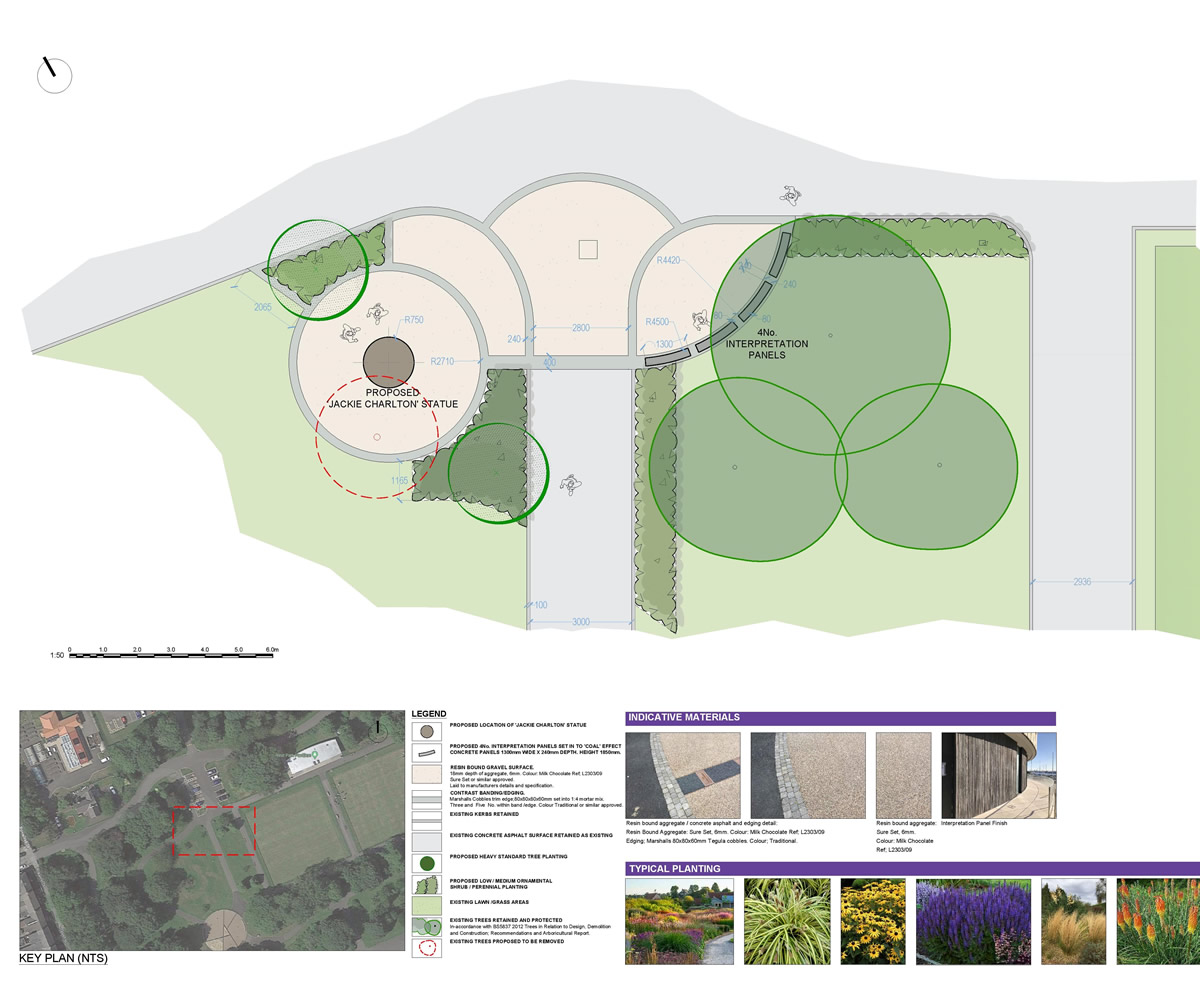 In July 2020, following the death of Jack Charlton, Cllr Liam Lavery acted on the outpouring of grief, locally and further afield, with the idea of a fitting tribute; a statue in his hometown Ashington.
Cllr Liam Lavery who kicked off a Go Fund Me page said, "Jack Charlton brought joy to millions of people across Britain and Ireland through football, but his influence transcended the sport. In life, he was a towering monument to the values that bind our communities – and his passing deserves that legacy to be carried on for future generations."
The project received support from Ashington Town Council who commissioned well respected sculptor Douglas Jennings to create a life-size bronze cast statue of Jack 'The Elder', to stand proudly in Hirst Park, overlooking the fields where Jack first kicked a football.
Douglas said, "I am delighted by this commission and honoured to be part of celebrating Jack Charlton's incredible footballing career as a player and manager. It is an honour to immortalise this legendary figure who clearly deserves to have a statue in his beloved hometown of Ashington. As an artist I find Jack's story fascinating and relish bringing to life his image for fans to continue to draw inspiration and strength from."
Bernicia Homes was an early supporter of the statue with funding from their Residents Funding Panel, along with many others including local individuals, County Cllrs, The Wellington (Riding Mill), Unite, Welbeck Estates, Wansbeck Constituency Labour Party, Ashington Labour Group, DJB Projects and others.
There is much written about how football evolved in mining communities, but whatever point of view you take, mining communities produced some enviable talent in football. As a proud ex-mining town there are links to the mining heritage of Ashington in people, places, words, and structures. Add to that a town that boasts four 'footballers of the year' and you have an exciting heritage project in the making.
As the project moves into extra time, we are delighted to share that Jack will be in exceptional company in Hirst Park. Local football and heritage enthusiast and expert Barry Mead has worked closely with Ashington Town Council to bring forward the story of Ashington's football hall of fame. Jackie Milburn, Jimmy Adamson, Bobby Charlton, and Jack Charlton will all feature in 'Ashington's Footballing Heritage', including special coverage of the 1966 World Cup. Using interpretation panels, the aim is to educate, motivate, and inspire people by bringing to life the story of these four players in words and pictures, with a focus on their early roots and career triumphs.
Local Landscape Architect, Nick Wright of PlaceOnEarth Ltd is working alongside Structural Engineers Jasper Kerr and Classic Masonry based in North Shields to create a design that respects the separate elements of the project but brings these carefully together in a unique small garden space that will add to the already diverse range of experiences in Hirst Park.
Nick said, "Naturally, I am delighted and honoured to have been selected to join such a passionate team of individuals who have come together to deliver Cllr Lavery's vision. Projects of such National importance are rare, and to be a small part of the team is a real pleasure especially so, as I had the great pleasure of bumping into Jackie (albeit briefly) some years ago."
Brambledown Landscapes, who have already delivered several important projects within the park, including most recently the Ashington Mining Memorial, will construct the garden later in the year. Neil Blakelock of Brambledown said, "After many successful projects already achieved together over many years, Brambledown are pleased to be working once again with Ashington Town Council on this iconic project. As a long established and proud North East company celebrating our 50th anniversary this year, we are delighted to help deliver something special for the Town of Ashington."
The Council is excited to explore the use of cast concrete panels which will resemble a cut coal face, to create the structural feature that will house the interpretation panels. This has been done successfully at 'The Word', a state-of-the-art, multi award winning cultural venue set in the heart of South Shields, a north-east town with whom we share our mining heritage.
Our hope is that these projects will harness the power and popularity of football as a force for good, developing partnerships with people and organisations across the region to improve people's lives and support their communities. Northumberland FA are right behind us and are confident this will be a widely celebrated tribute.
Hirst Park was a special place for the Charlton Brothers. Jack spoke about Hirst Park, in 2016, after it was named as one of 12 parks across the country to receive a share of £32 million from the Heritage Lottery Fund and Big Lottery Fund. At that time Jack said,
"The park was a precious place where me and Bobby learned our craft, training and playing for fun, before going on to join Leeds and Manchester United and then playing in the World Cup-winning England side in 1966. Hirst Park made it all possible for us and we would play all day if we could, and we often did."
Northumberland County Council sought to work in partnership with Ashington Town Council to commemorate the football achievements of the Charlton Brothers in the 1966 World Cup. As the owners of the park they welcome the new features and the recognition of these achievements as part of Ashington's heritage.
County Councillor John Riddle, Cabinet Member for Local Services said, "We're looking forward to seeing this fantastic sculpture being installed in Hirst Park, honouring this footballing legend. The park is a wonderful asset for the town, having been transformed over recent years thanks to substantial County Council and National Lottery funding, and this statue will a fitting tribute to Jack on the fields where he learned his craft."
Local resident, Mr John Freeman, a close family friend of the Charlton brothers, is delighted their triumphs will be celebrated in a lasting tribute.
Mrs Pat Charlton, Jack's widow is looking forward to seeing the finished statue, and to the unveiling event later in the year.
Like the 1966 world cup, the win is coming in extra time. The Council expected to complete the project towards the end of the summer; however, the reality is more likely October, due to expected supply issues. The team is dedicated and will deliver a first-class project, and alongside this a celebratory unveiling event.
Chair of Ashington Town Council, Cllr Mark Purvis said,
"The people of Ashington are rightly proud of their footballing heroes, and as a council we want to develop projects that local people value. Also, we want to encourage investment, and share our stories with visitors. I never get tired of football stories, and hope these will inspire our youngsters, not only to kick a football, but to be their absolute best."
In the coming weeks we will be delighted to share an artist's impression of the work, but in the meantime the landscape plan gives an overall picture.
For more information on the Jack Charlton Statue and Ashington's Football Heritage, please contact Ashington Town Council.
Tune in to the Breakfast Show on BBC Radio Newcastle tomorrow morning to hear Cllr Liam Lavery being interviewed on the project.