Behind the scenes, Ashington Town Council has been working with award winning, local garden designer and horticulturist, Sean Murray, to bring sustainable planting solutions to Station Road and the Gateways into the town.
Sean was delighted to work on designs in his hometown and has developed schemes that bring year-round interest, are sustainable, and will encourages pollinators. Sean said,
"I am thrilled to be involved in creating some sustainable planting schemes that will provide a haven for local people. The planting will have interest throughout the year, not only from flowers but from stems, leaves and seed heads with an emphasis on perfume especially in the winter months. I hope to bring a green sanctuary right into the town centre as well as the approaches to our town.
I hope the new schemes will be places for people to perhaps stop for a moment and feel uplifted and inspired by nature".
As well as being the future, young people are the trailblazers when it comes to environmental responsibility, and the Council was keen for schools to be involved in this project. Pupils from Bishop's Primary, Castle School and James Knott Primary have created 'Work in Progress' signs to inform of and celebrate the sustainable beds to come.
Sharon Parmley, the Council's Senior Administration Officer, designed a brief that captured the imagination of school pupils and their commitment to the environment. We received bees and butterflies aplenty and some very positive messages about what people should do to look after Ashington.
Headteacher of Bishop's Primary School, Clare Marriot said,
"We were delighted to be part of this wonderful project. This year we have done a lot of work to encourage our children to celebrate and look after their own community, so this project gave them another opportunity to do this. By focusing on sustainability and positive communities our children are best placed to drive our future and we are excited to do more to spread the message of positivity and care for our community, country, and planet."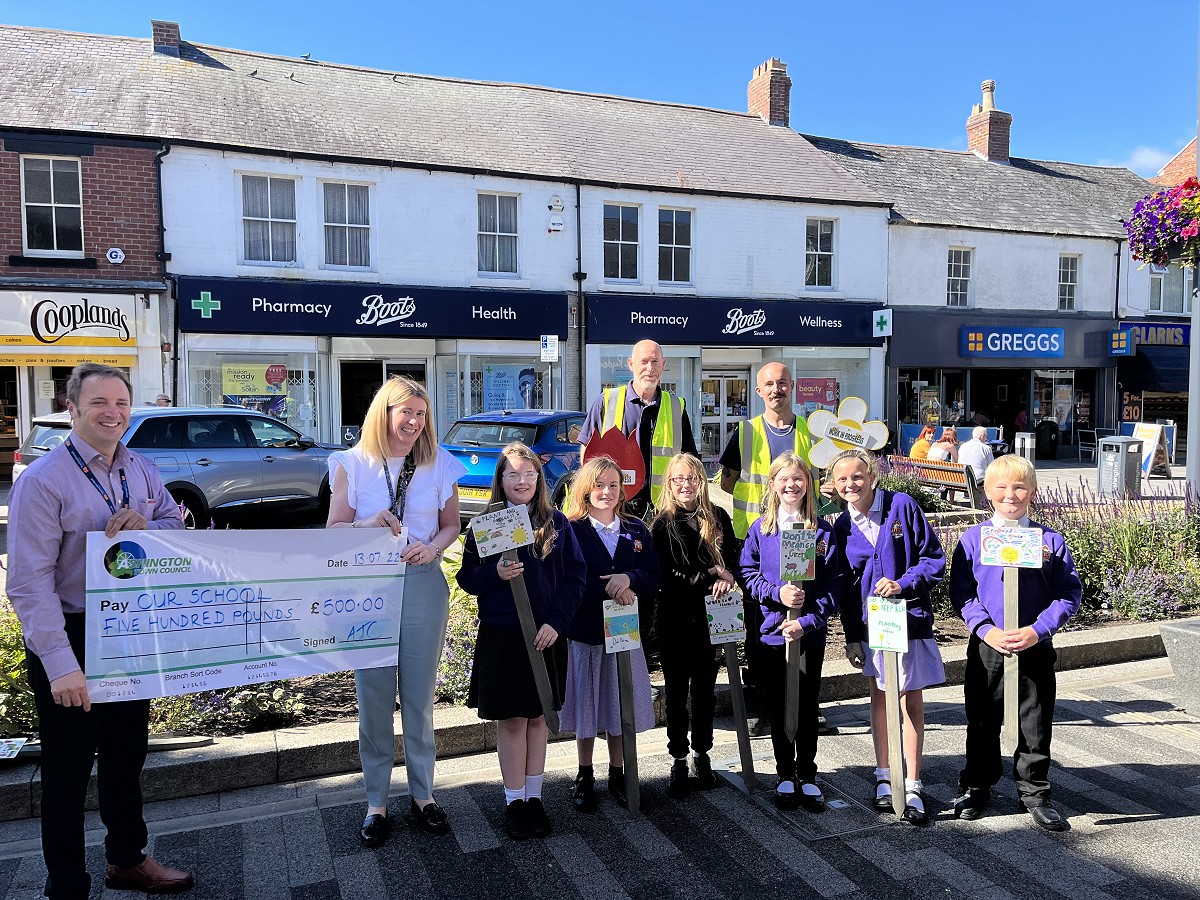 (left to right, front to rear) Ashington Town Council - Stephen Humphrey, Bishop's Primary Deputy Headteacher - Heidi Barnes; pupils - Ava, Sienna, Chloe, Shannon, Ava and Jacob. Neighbourhood Services Officers - Mark Air and Ryan Appleby.
On Wednesday 13th July the beds were installed with the signs designed by the young people. The plants that are in situ now will be reused elsewhere in the town and the brand-new scheme will be planted up week commencing 20th September. Sean Murray will work alongside our team of two neighbourhood services officers, Mark Air and Ryan Appleby, who have readied the beds.
On their visit to see the signs and to collect a cheque for £500 towards supporting sustainability in their schools, young people were enthusiastically planning to bring their families onto Station Road. They were eager to explain about the importance of the scheme, what they are doing in school, and how they would like to spend the money. We feel sure the message of sustainability will be spread loud and clear.
Dawn Watson, teacher at Castle School said,
"Our pupils have missed being able to be out and about over the past couple of years. This project allowed us to reconnect with the town and contribute to our local community. They were really enthusiastic about making the posters and were delighted to see their work transformed into the amazing signs that will be on show for all to see. The pupils are already thinking about how to spend the prize money in our school playground."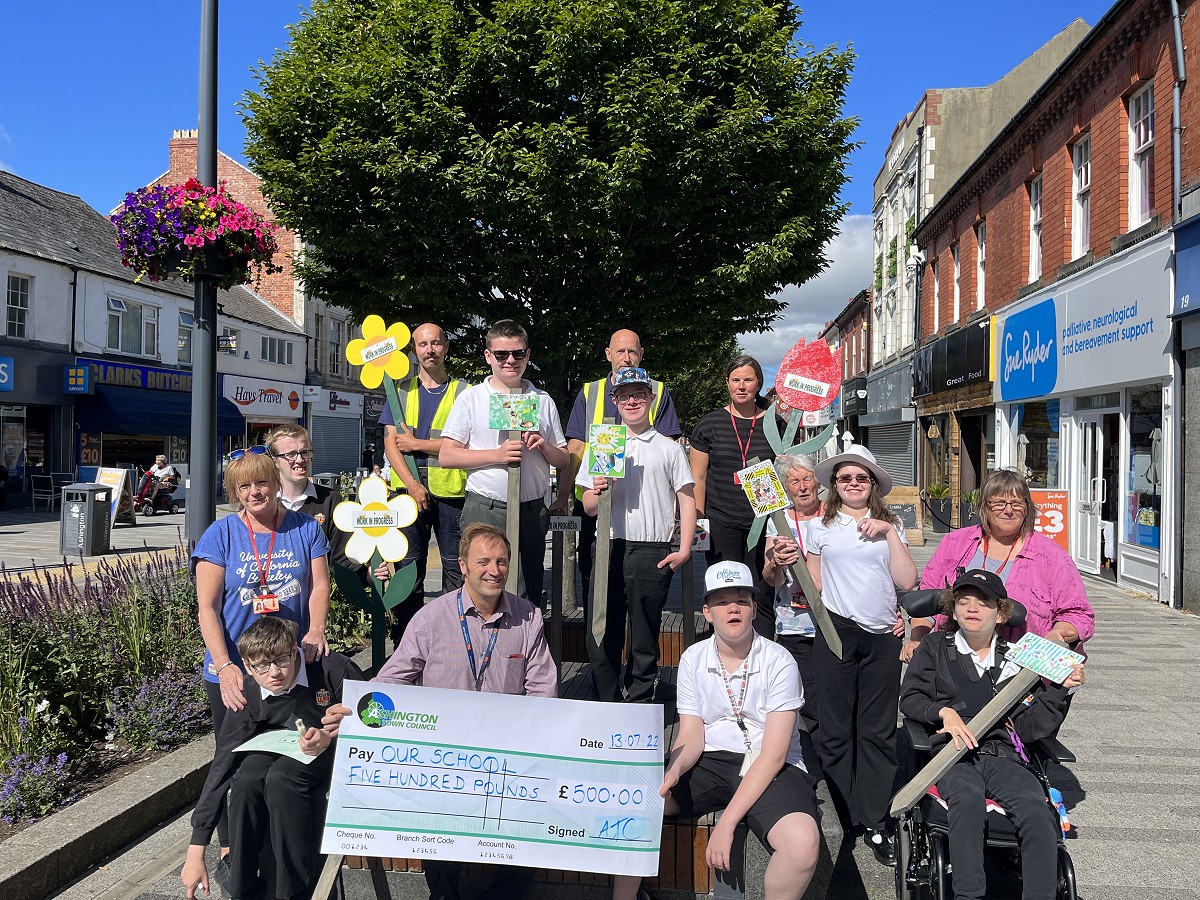 (pictured with Ashington Town Council staff are Castle School teachers and pupils -.Lindsey Foster, Callum, Thomas, Callum, Lana, Kieran, Dawn Watson, Lynn McPherson, Keira, Lana and Vic Evans)
Civic Head, Cllr Bob Walkinshaw was unable to attend the photoshoot, but the Council's Assets and Facilities Manager, Stephen Humphrey stepped in to present the cheques.
James Knott teacher Claire Donnelly accompanied the school's Eco-Warriors, she said,
"James Knott Eco-Warriors group consists of some Year 5 and 6 children who were absolutely thrilled when they heard about the sustainable planting poster competition! We were all excited to get to work and are incredibly proud of how our hard work and commitment has paid off being awarded £500 for our school Eco-Fund which will help us fund projects such as making classrooms greener space by buying indoor plants, improving the garden area and hopefully kick start a forest school environment in the future! Thank you, Ashington Town Council, for allowing us to be part of this great project and we can't wait to see our signs and the fully planted borders on Ashington Main Street!"
(left to right, front to rear) Ashington Town Council - Stephen Humphrey, James Knott teacher Claire Donnelly with Year 5/6 Eco-Warriors who promote change in their school! Senior Finance and Administration Officer - Sharon Parmley, Neighbourhood Services Officers - Mark Air and Ryan Appleby.
Ashington Town Council was resolute in their desire for sustainable planting where this could be achieved. Hanging baskets and planters on Station Road and around the town are planted with annual displays and look resplendent, but there is a balance to be achieved and we hope that after the sustainable planting in September, the birds, insects, and bees will show their appreciation, and residents and visitors will admire the improvements.
If you have plans for your own sustainable or wildflower planting, and you want to demonstrate 'Work in Progress', the Council would be thrilled to share the fantastic signs with you; please get in touch.
Our website has its own Climate Change page which Sharon regularly updates with information, tips, and events. If you follow us on Facebook, you will be notified when updates are made.
For more information on this or anything else, please contact Ashington Town Council.
clerk@ashingtontowncouncil.gov.uk
(01670) 624520