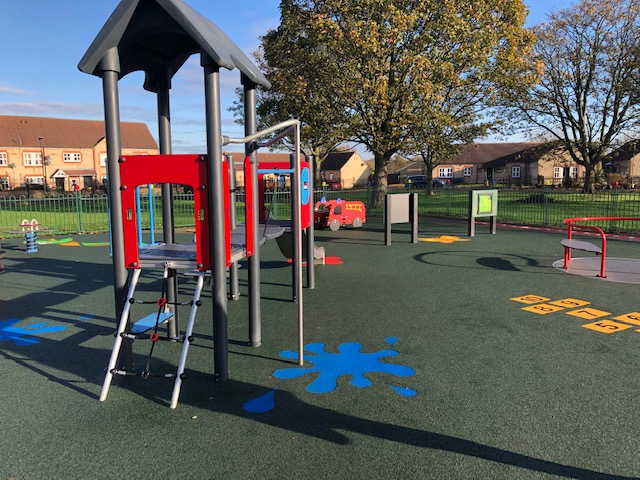 Work to refurbish the Alexandra Road Play Area has recently been completed with the installation of eight new pieces of equipment and a new wet-pour safety surface.
Ashington Town Council has developed and funded the project as well as receiving kind funding support from the Ashington Leisure Partnership. The Play Area is targeted at younger children and in developing the plans the Town Council asked local children and families what they would like to see in the play area. Over 60 adults and children took part in the consultation, which took place at the nearby Ashington Children's Centre, and their ideas and views were incorporated into the final design. The project was overseen by Hirst Ward Town Councillors Victor Bridges, Sophie Robinson and Pauline Thompson.
The play area includes a roundabout, climbing frame, games, springers and slide with the aim of challenging children both physically and mentally. The Town Council appointed Kompan Ltd to develop the project as the organisation has a track record of developing quality, robust play facilities. Kompan have a Play Institute, comprising of an international network of play and child specialists, who research and monitor the latest societal trends in children's play which has been incorporated into inclusive design.
Local children Aalayah, Ella Ann and Jackson can be seen enjoying the equipment along with staff from the Ashington Children's Centre, Town Councillors and Mr Paul Taylor of Kompan Ltd. Also photographed is Civic Head Cllr. Bob Walkinshaw and the Hirst Ward Councillors, receiving the funding of £18,000 from Mr Colin Redpath and Mr Brian Storey of the Ashington Leisure Partnership.
Civic Head, Councillor Bob Walkinshaw, said,
"We hope the development of the Alexandra Road play area facility will be welcomed by local families and children. The equipment in the play area will appeal to younger children and we believe this complements the recent improvements to play facilities for children of all age ranges, at the nearby Hirst Park."
Mr Brian Storey and Mr Colin Redpath, of the Ashington Leisure Partnership delivered the £18,000 cheque. They passed on that Ashington Leisure Partnership was delighted to be able to support the improvement work to the Alexandra Road Play Area, which supports their aims of improving access to recreation, and they hoped it would be used and enjoyed by generations to come.
Ashington Town Council has responsibility for some play areas in the town whilst Northumberland County Council remains responsible for the provision and maintenance of play areas at Hirst Park and Wansbeck Riverside Park.
For more information on the play areas in the town that are managed by Ashington Town Council, visit Ashington Town Council Play Areas