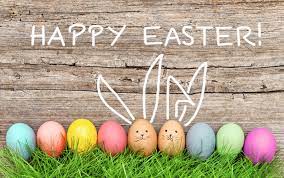 Easter Holiday activities for all the family across Northumberland.
From our website, you can visit other websites by following links to such external sites. While we strive to provide only quality links to useful and ethical websites, we have no control over the content and nature of these 3rd party websites.
All the information below was correct at the time of writing this article. Please check with individual organisers for further information.
---
Bunny Hop Easter Egg Hunt
Follow Ashington Town Council's Bunny Hop Easter Egg Hunt this Easter Half Term.
The Easter Egg Hunt starts Saturday 1st April. Find the Easter egg poster in each of the participating shops and collect a sticker. All completed sticker cards will receive a prize, which can be collected from Ashington Library at the Leisure Centre on Saturday 15th April 2023, between 10am and 1.30pm.
Sticker cards can be collected from all participating shops as well as Ashington Library.
(Please note that the Salvation Army Shop is being refurbished and stickers from that shop will be available from Monday 3rd April. Also check individual shop opening hours for over the Easter weekend)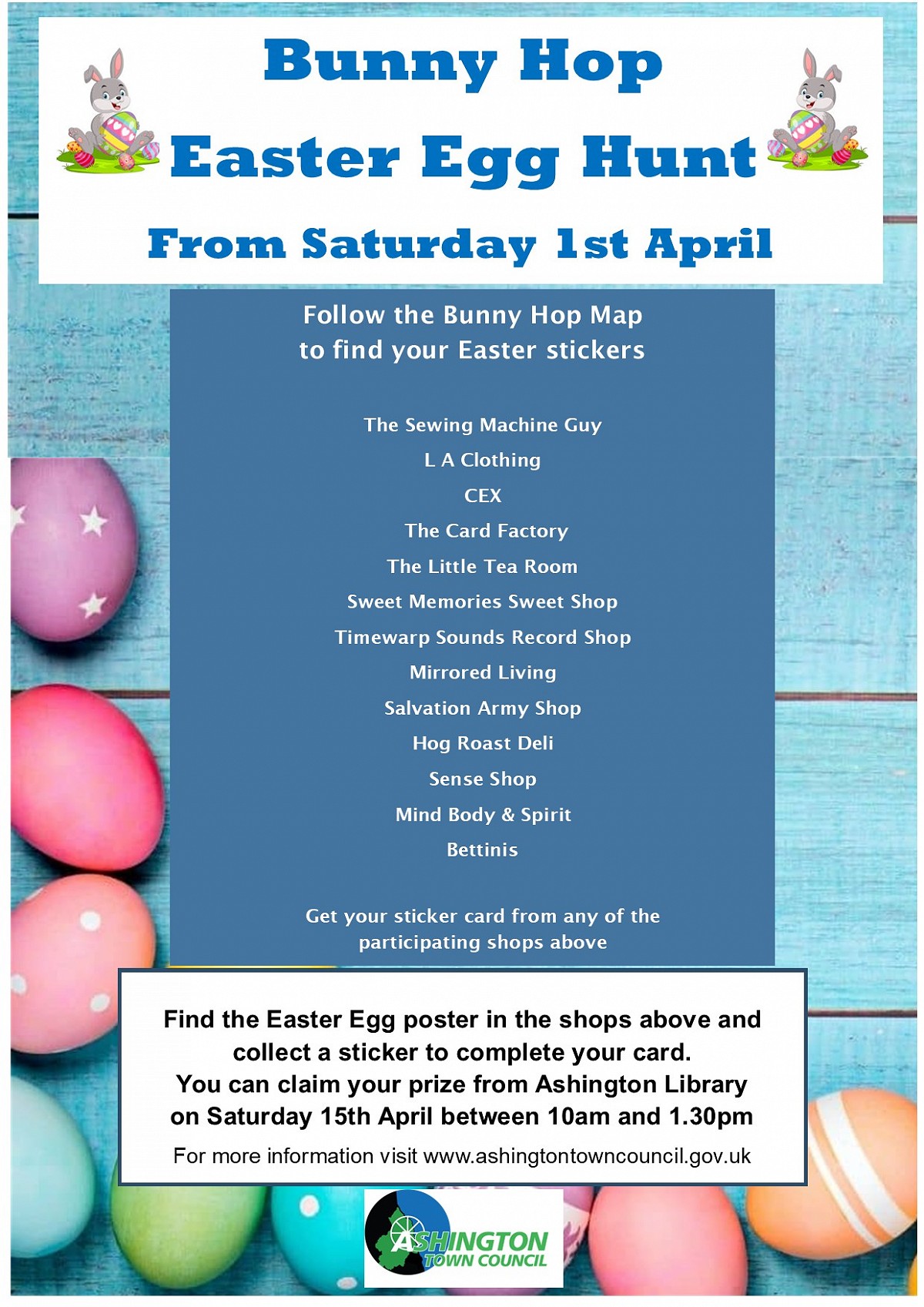 ---

Active Northumberland
If you're way too egg-cited
for the Easter hols, why not hop
onto the Active Northumberland app and book ahead some smashing soft play fun this Easter half term.
Our 8 SOFT PLAY adventures, for kids of all ages, will have the kids running wild! From safari
fun to space themed,
have you discovered them all?
Ashington Leisure Centre – 4 storey, Go Wild Jungle
Safari soft play
Berwick Sports Centre – 3 storey Nature
themed soft play
Blyth Sports Centre – 3 storey beach
themed soft play
Concordia Leisure Centre – 4 storey jungle safari
themed soft play for your little lion cubs
NEW Morpeth Leisure Centre – NEW 2 storey castle
themed soft play
Prudhoe Waterworld – 4 storey space themed soft play for your budding astronauts to have a blast
Ponteland Leisure Centre – 4 storey rainforest
themed soft play for your little tigers to explore
Willowburn Leisure Centre – 4 storey go wild jungle
safari soft play
All adults go free with our soft plays!
Why not meet up with some friends and enjoy a cuppa and a catch up whilst the kids run wild!
Book NOW on our Active Northumberland App, call our team on 01670 620200 or speak to our team on reception.
More HERE: https://bit.ly/EasterHolidays23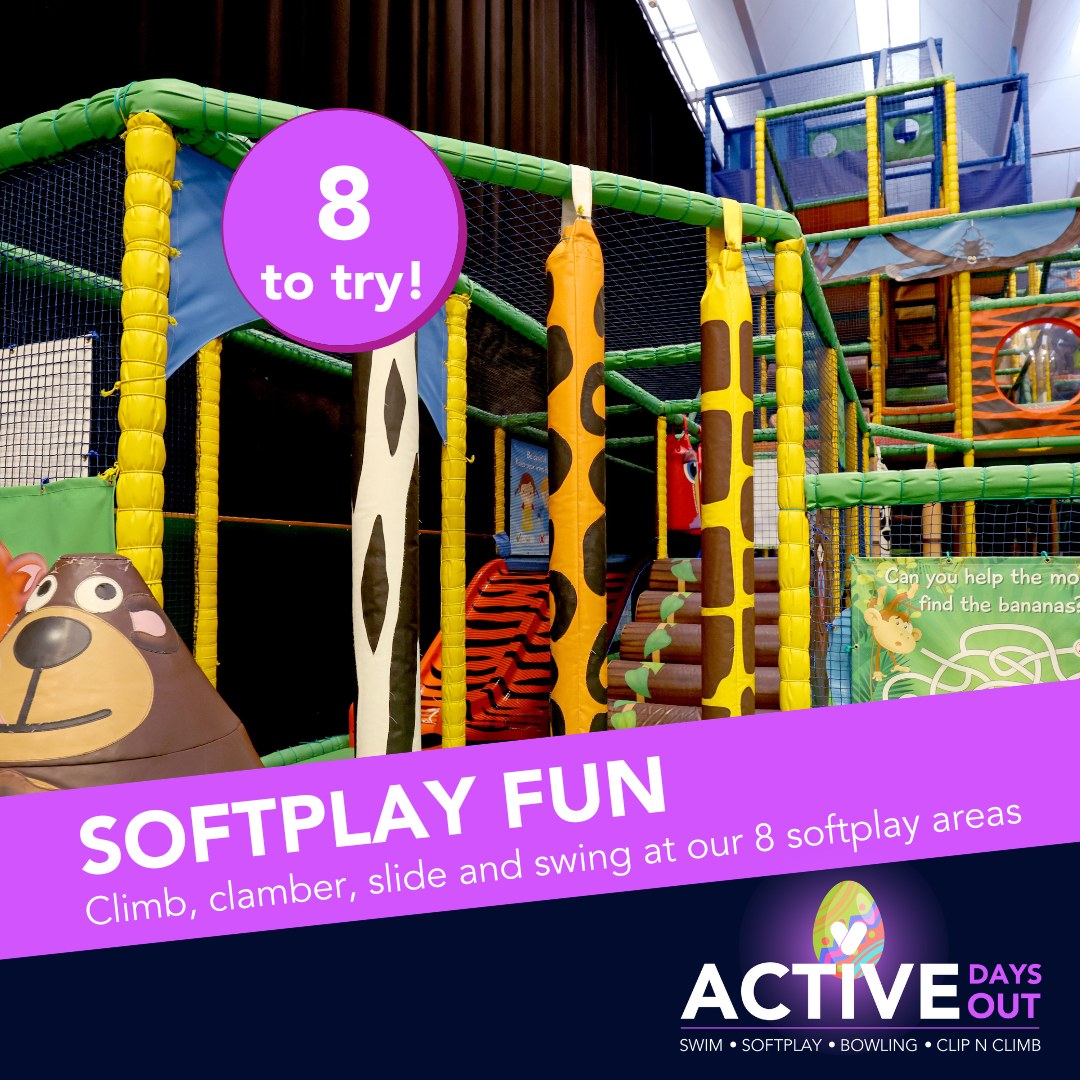 ---

Central Northumberland Family Hubs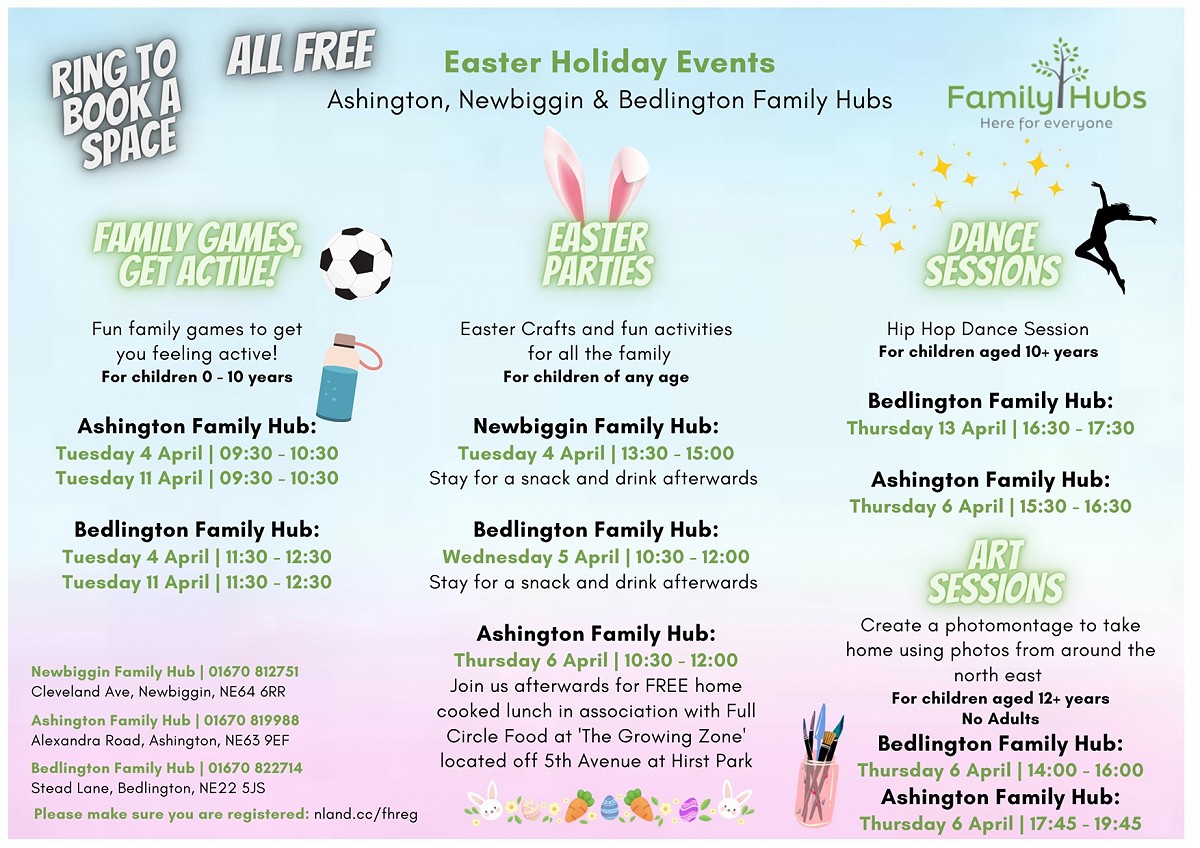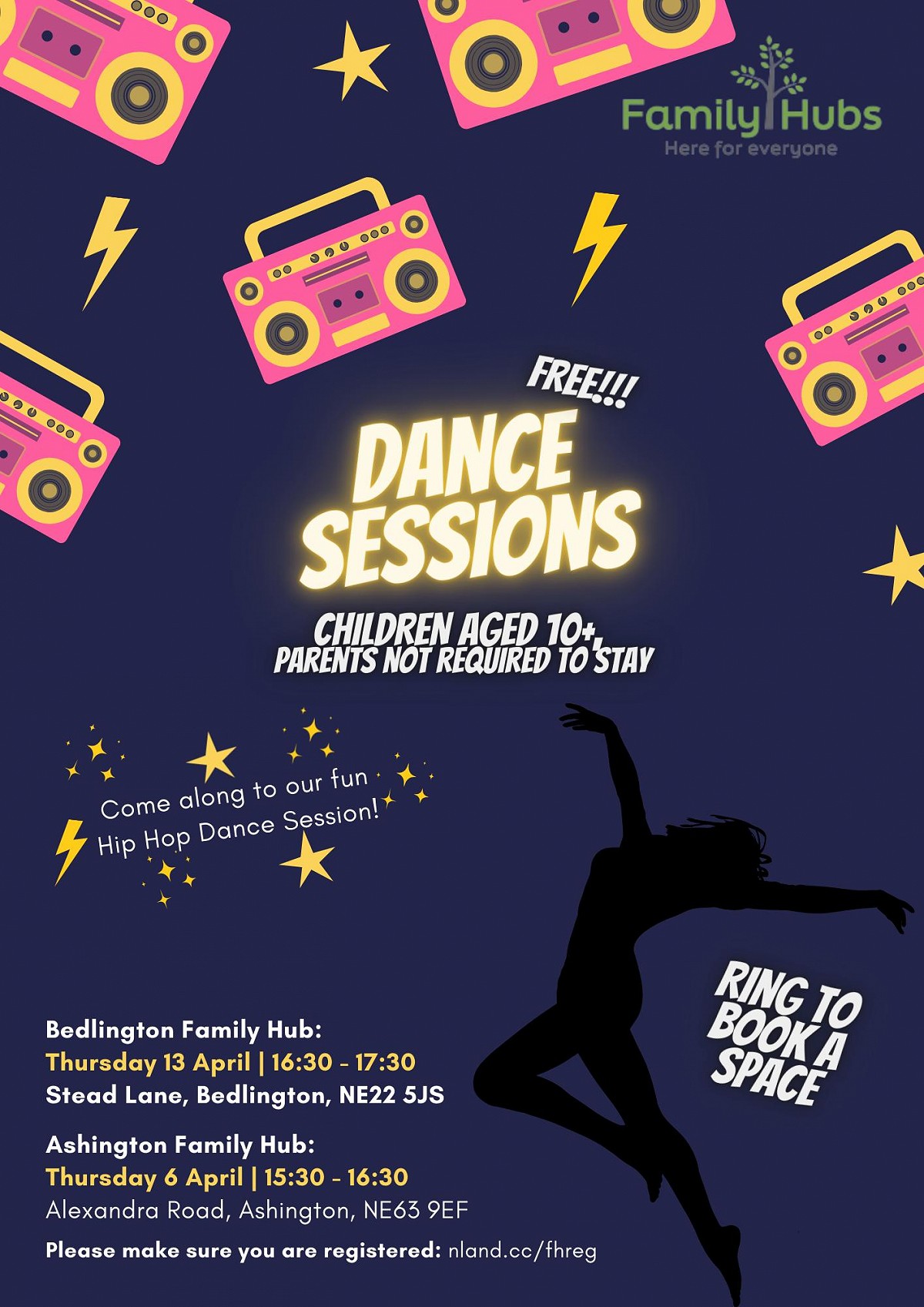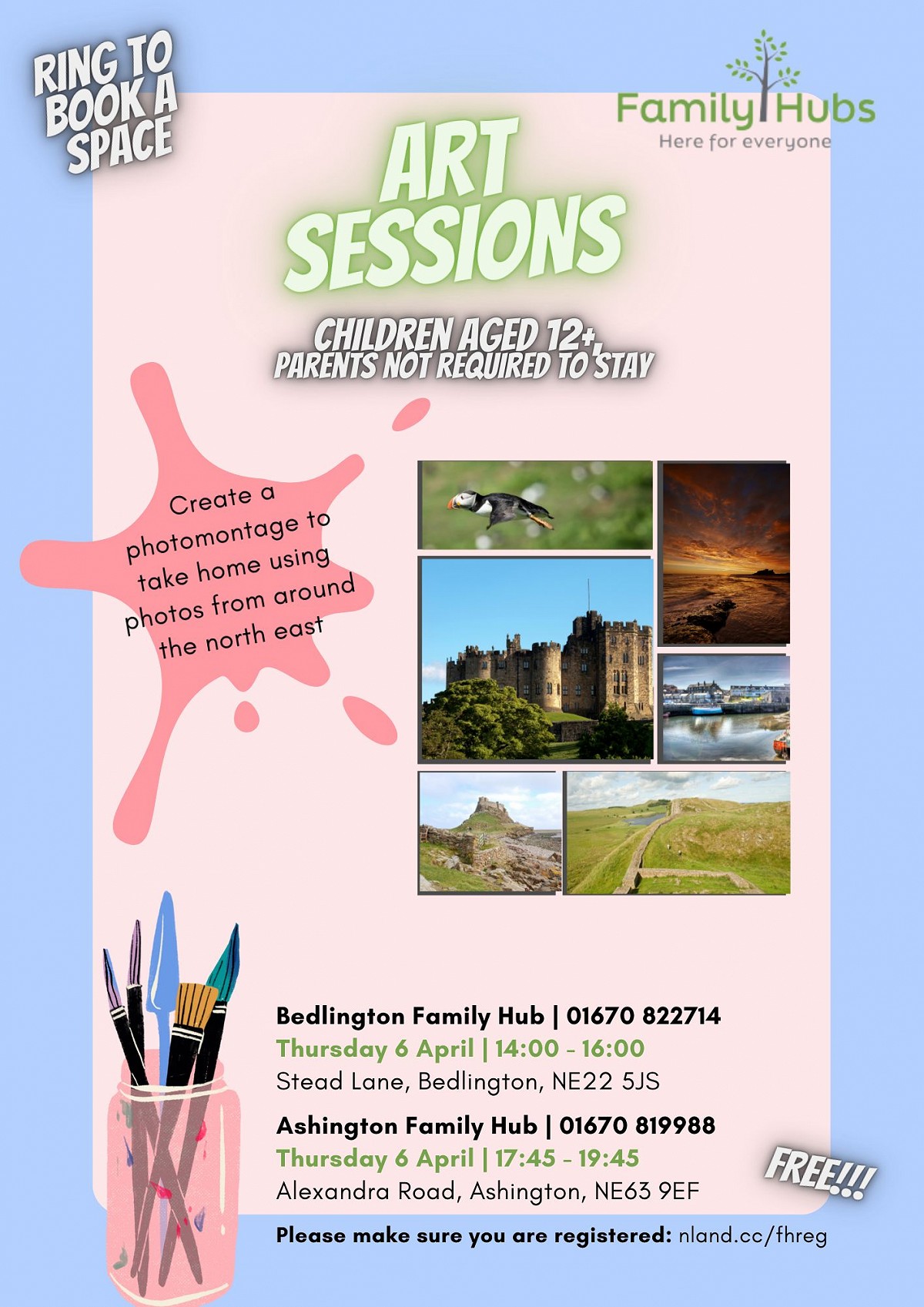 ---
Full Circle Food
We have some fantastic activities in April!
If you have any questions or to book places, please email info.fullcirclefood@gmail.com or TEXT/CALL 07787 103757. Calls/texts will be responded to during office hours.
Family fun days do not require booking - just come along and enjoy the fun!
Trips are strictly for children aged 8+
Free trip to Blagdon Farm - Monday 3rd April
Children MUST wear wellies for this trip
Free trip to Druridge Bay - Wednesday 12th April
Children must wear suitable clothing and footwear
Lunch is provided for both trips.
Places for the trips are strictly on a first come first served basis.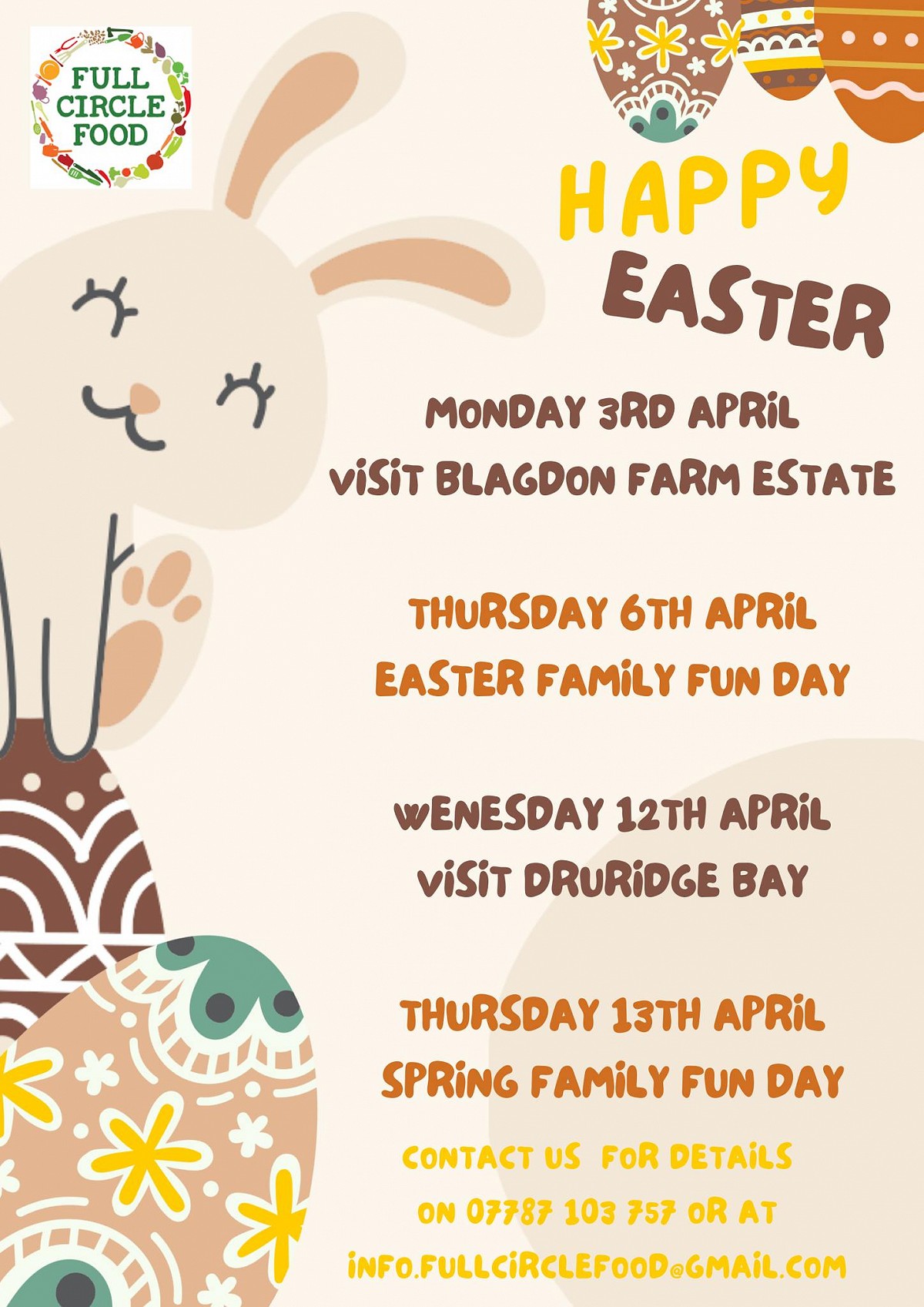 ---

Heart of the Hirst Easter Fair

---
Hirst Park, Northumberland County Council
Monday 3rd April, 10am until 2pm - Springtime arts & crafts in the pavilion
Wednesday 5th April, 10am until 12 noon - Wildflower Day in the pavilion
Thursday 6th April, 10am until 2pm - Family Day at Full Circle Food
Saturday 8th April, 10am until 1pm - Easter crafts in the pavilion
Sunday 9th April, 10am until 3pm - Heart of the Hirst Easter Fair
Monday 10th April - Thursday 13th April, 10am until 3pm daily - Hirst Park's Fantastical Trail
Wednesday 12th April, 1pm until 3pm - Springtime arts & crafts in the pavilion
Thursday 13th April, 10am until 2pm - Family Day at Full Circle Food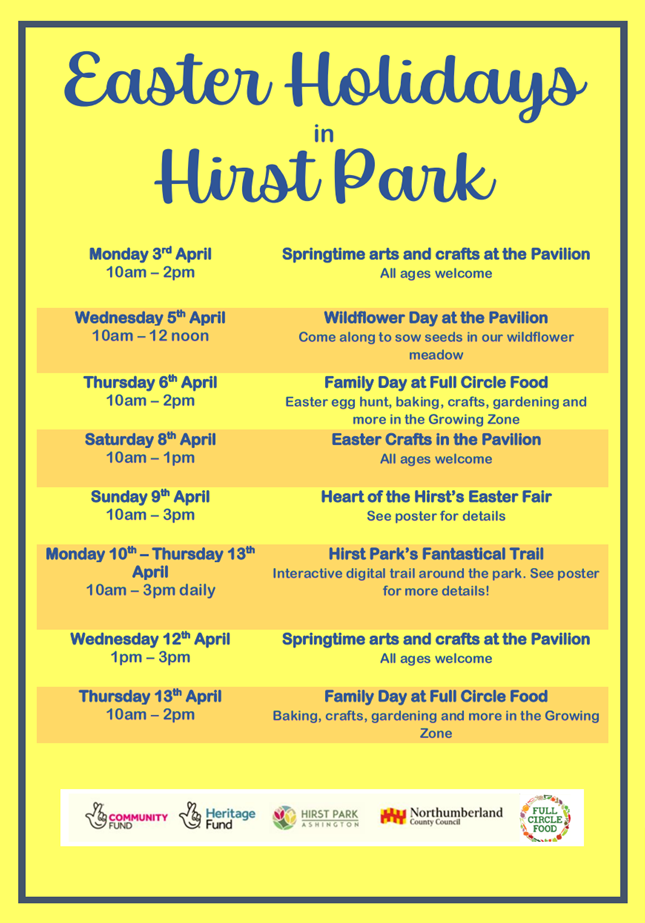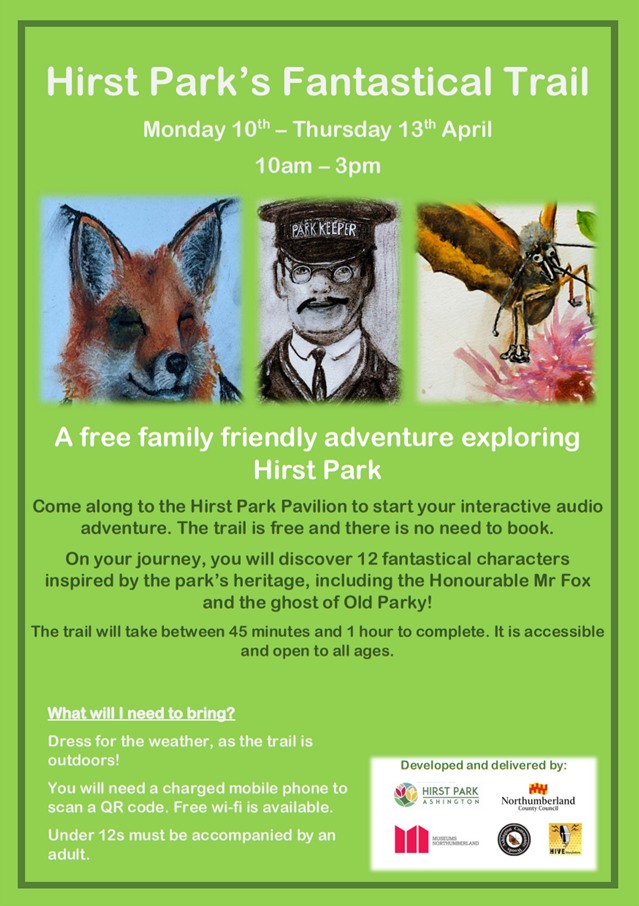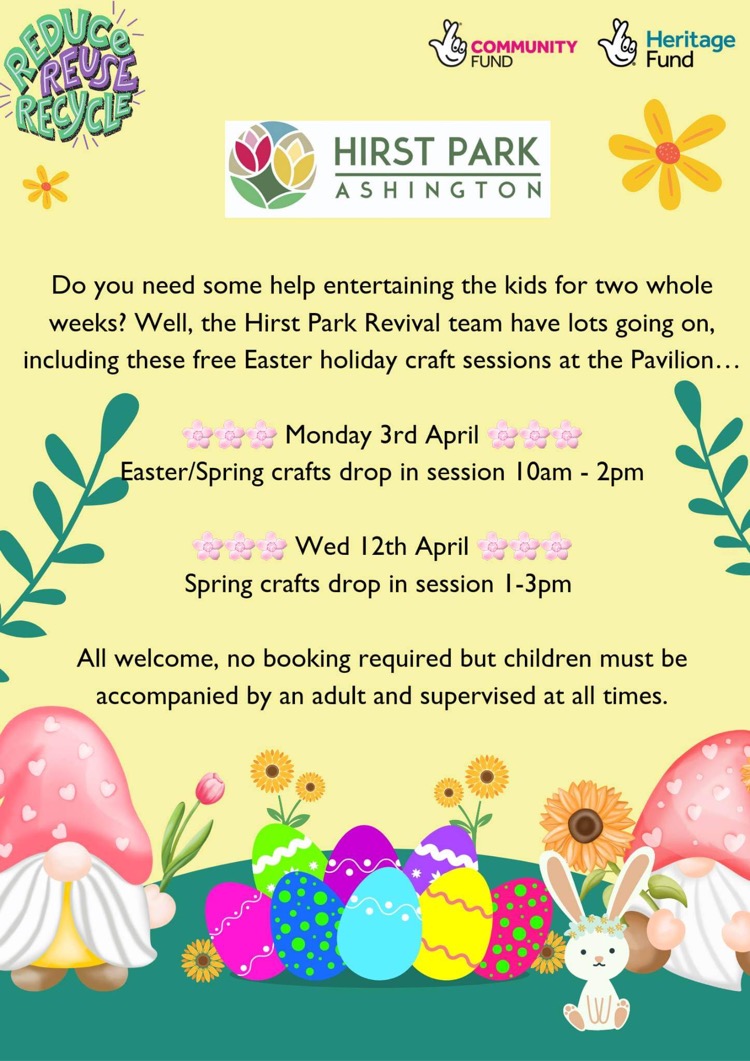 ---
Hospice Care Northumberland
Saturday, 8 April 2023, 10:00
Starbucks Drive Thru, Willowburn Retail Park, Alnwick, NE66 2JH View Map
Easter EGG-Stravaganza will take place at Starbucks Drive Thru, Alnwick on Saturday 8th April 2023.
Registration is now open for our stall holders! Limited spaces available.
Please do join us with your crafts, homeware and gifts as we celebrate Easter and Springtime.
This is a family event and will be held outside so we do ask that you bring your own table and gazebo.
Please note we cannot accept food and drink stalls at this event.
In the event of cancellation due to weather conditions, a new date will be arranged.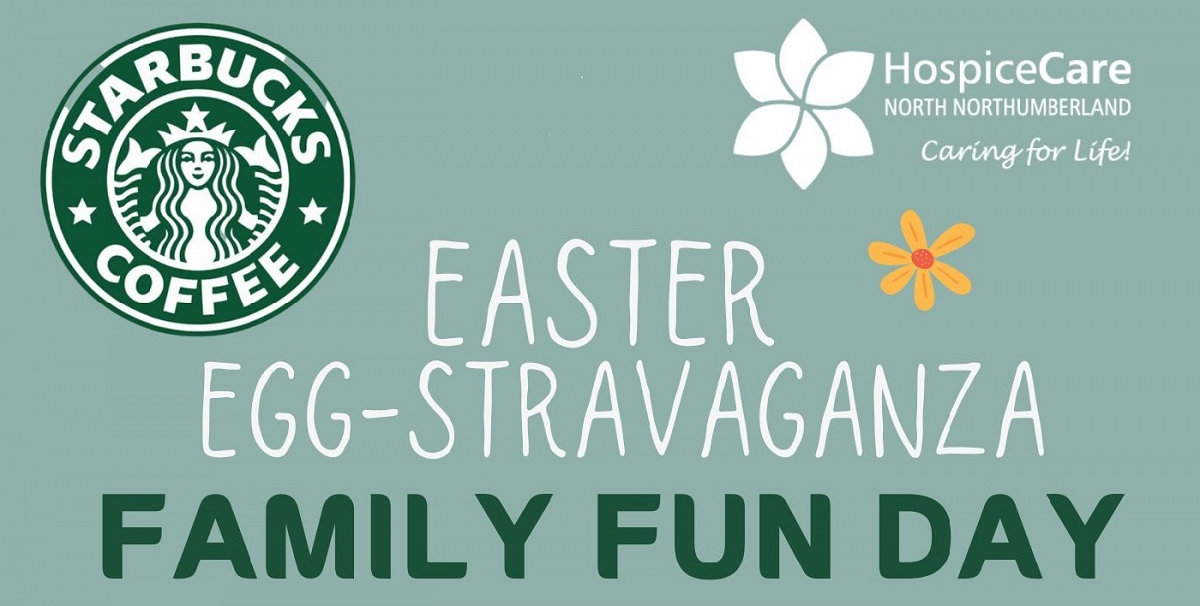 ---
Newbiggin RNLI Easter Fayre
Sunday 26th March 2023, 1pm
Newbiggin RNLI Shop | Newbiggin-by-the-Sea | Facebook

---

The Alnwick Garden
Spring is officially here so it's time for us to spring into action and tell you what's on and what's coming
Join Christine Walkden as she delivers her talk 'The Life and Times of a Gardener' on March 28th
Alnwick Ahoy! Forget eggs, this Easter we're hunting for Treasure! Join us on a perilous pirate trail from April 1st - April 16th!
Alnwick Round Table are back with their annual Duck Race on April 8th! With some excellent prizes to be won, you don't want to miss out!
Visit our What's On Page via our website for more information and booking details here: https://loom.ly/RrA5pZI

---

Woodhorn Museum
We're delighted to welcome Bugs n Stuff to Woodhorn Museum this Easter.
Bugs n Stuff was set up to give children and adults the opportunity to have close contact with, and learn more about, the creatures of the insect, amphibian and reptile world. Guy Tansley brings great enthusiasm and knowledge to his workshops across the Northeast.
Our workshops are free, but booking is essential. Places are filling fast, for best availability please look at the later afternoon sessions.
https://museumsnorthumberland.org.uk/.../event/bugs-n-stuff
Easter Bunny Visiting Woodhorn Easter Bunny Visiting Woodhorn Museum | Facebook
Woodhorn Wildflowers Woodhorn Wildflowers | Facebook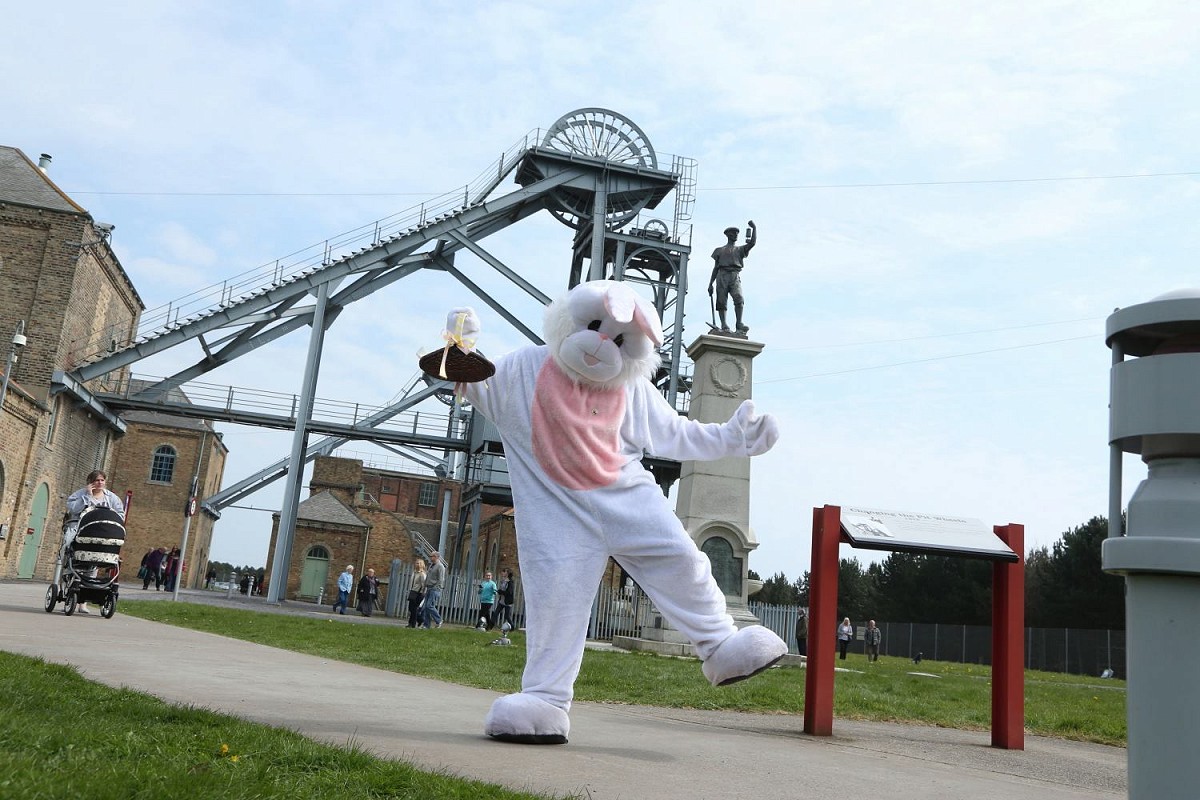 ---

YMCA Northumberland
@mortalfoolsuk Young Company present Flux – 12 unique young voices come together on stage on 1st April at @YMCANorthumberlandNE, to explore what it means to question your identity in a world that feels determined to put you in a box. Tickets are available now!
Figuring it out and fitting in; what makes you, you?
Flux is a contemporary theatre show devised and performed by young people showcasing an original soundtrack, bold set design, and the incredible talent, insights and lived experience of Mortal Fools Young Company.
Flux is for teenagers, young people and adults – it's heart-warming, hopeful, colourful, bold, empowering, funny, poignant, thought provoking and a reminder, that you're not alone in feeling like a "mess" sometimes. We're all trying to figure this out…… and for an hour or so we're in it together….
Performance Information
#Flux2023 lands in YMCA Northumberland, Ashington 1 April, 2pm & 6pm
6pm performance has live BSL interpretation from Caroline Ryan
Tickets are available now and £6 Adults & £4 under 25s/Concessions
Book tickets via: https://m.bpt.me/event/5728602
Show information & accessibility info via: https://www.mortalfools.org.uk/flux