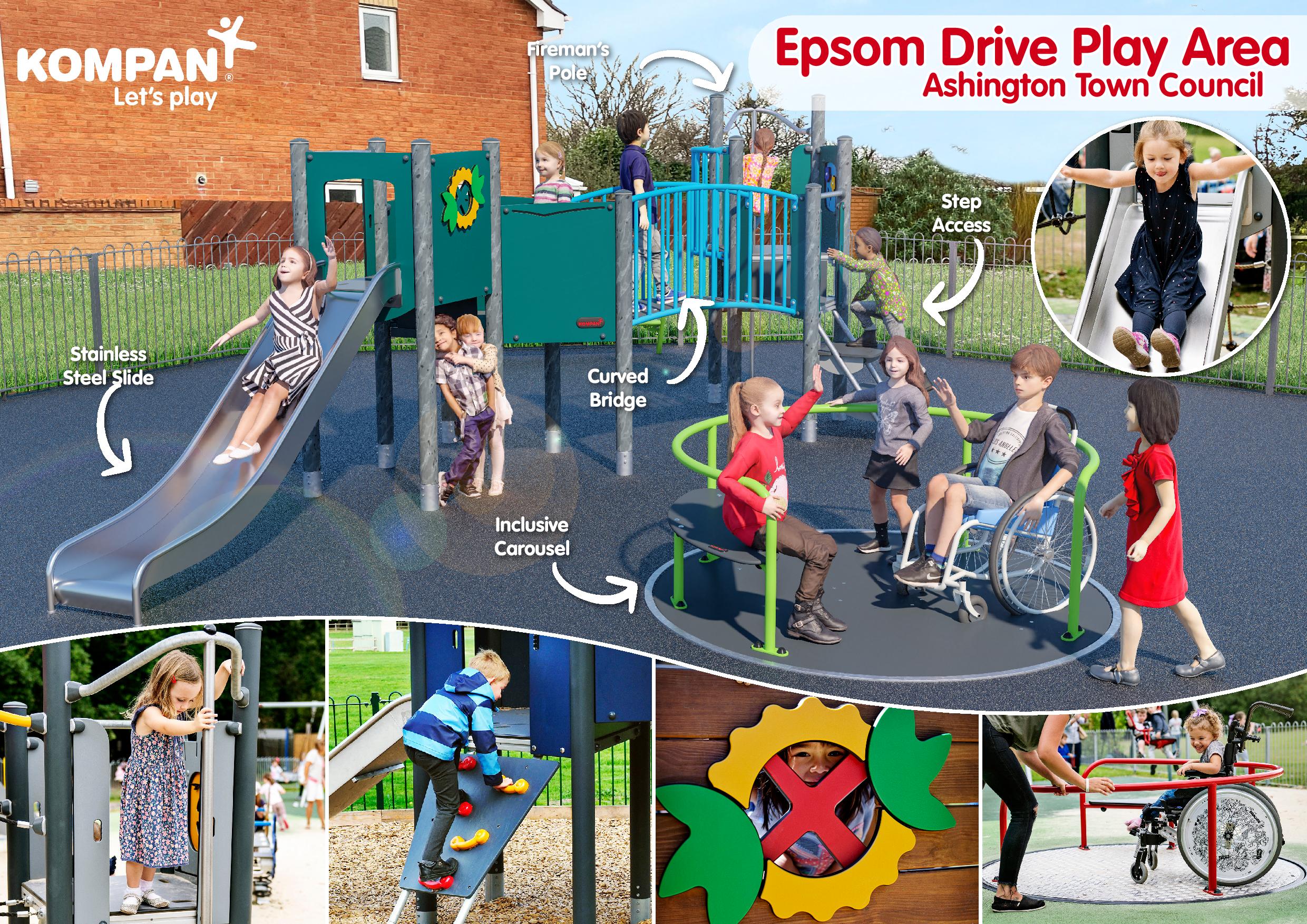 Exciting plans are progressing to redevelop the play areas within the Orchid Meadows Estate, at Epsom Drive and Aintree Close.
Like the racecourses the streets and play areas are named after, we are galloping ahead and have received confirmation from our play partner Kompan that they will be installed in advance of the summer holidays.
The great news on these play areas is that they have been developed in consultation with local people, they feature accessible equipment, and Kompan's Greenline range has been chosen, confirming the Council's commitment to taking action to reduce the effects of climate change.
The investment in the play areas is over £57,000, with savings of over £8,000 as they are being installed at the same time. As well as the financial savings of bringing the projects forward together, there are also green efficiencies in relation to transport and travel. The Council has committed to installing more sustainably conscious playground equipment where it can and has delivered on this by choosing Kompan's Greenline range. The Greenline range is made using recycled waste sources within the materials to produce play products with a low carbon footprint.
The results of an estate-wide survey, alongside the benefits of having a variety of equipment, accessible equipment, and the closely located play areas complementing each other was considered as part of the final chosen designs.
The Aintree Close design was a very firm favourite among those who responded. The visual shows exactly what is being installed. The play area will include a four tower multi-play frame with bridge, wobble board, slide, and inclusive and interactive play panels, as well as the popular crazy hen springer and springer bowl.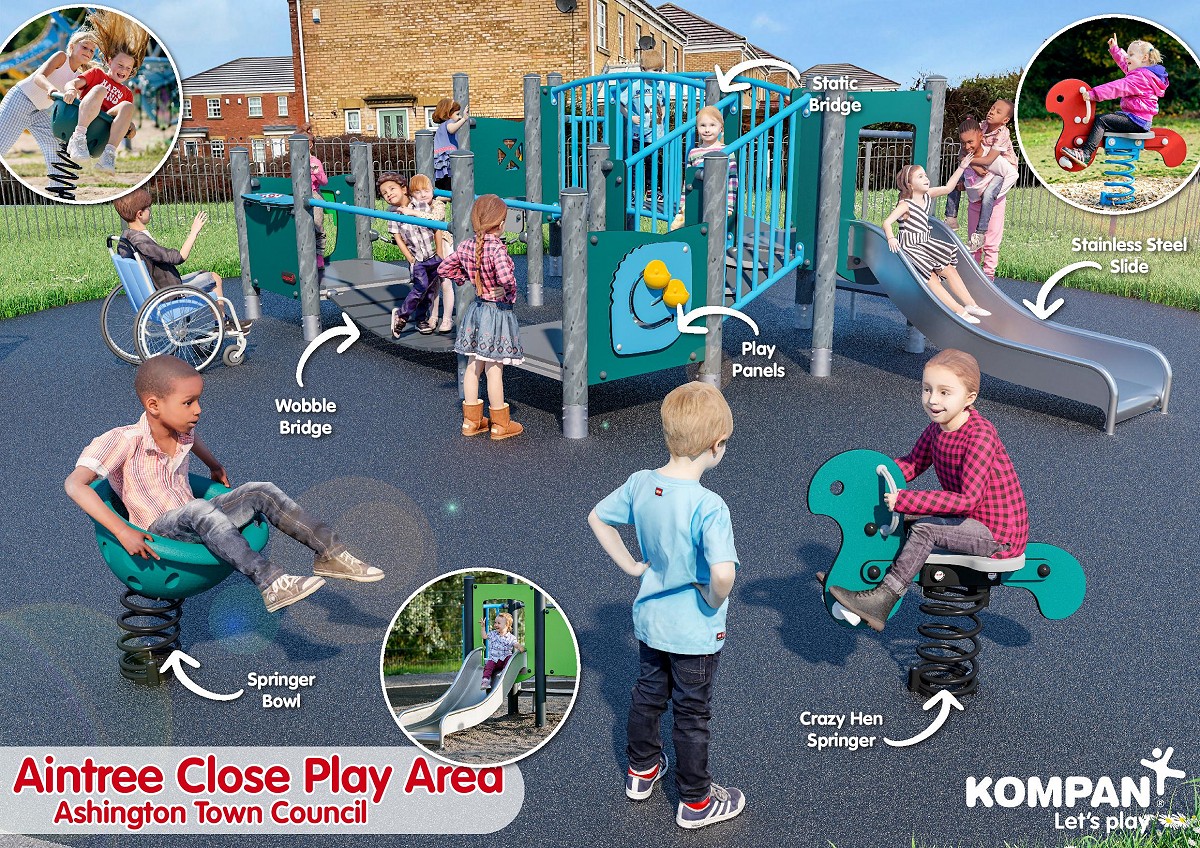 For Epsom Drive, the Council chose a hybrid of the options presented at consultation. The preference results were very close, and it was important we ensured an inclusive roundabout could be incorporated. The visual illustrates the final scheme which has an inclusive roundabout, a two-tower unit with slide, net climb, stairs, tunnel bridge, and sliding pole.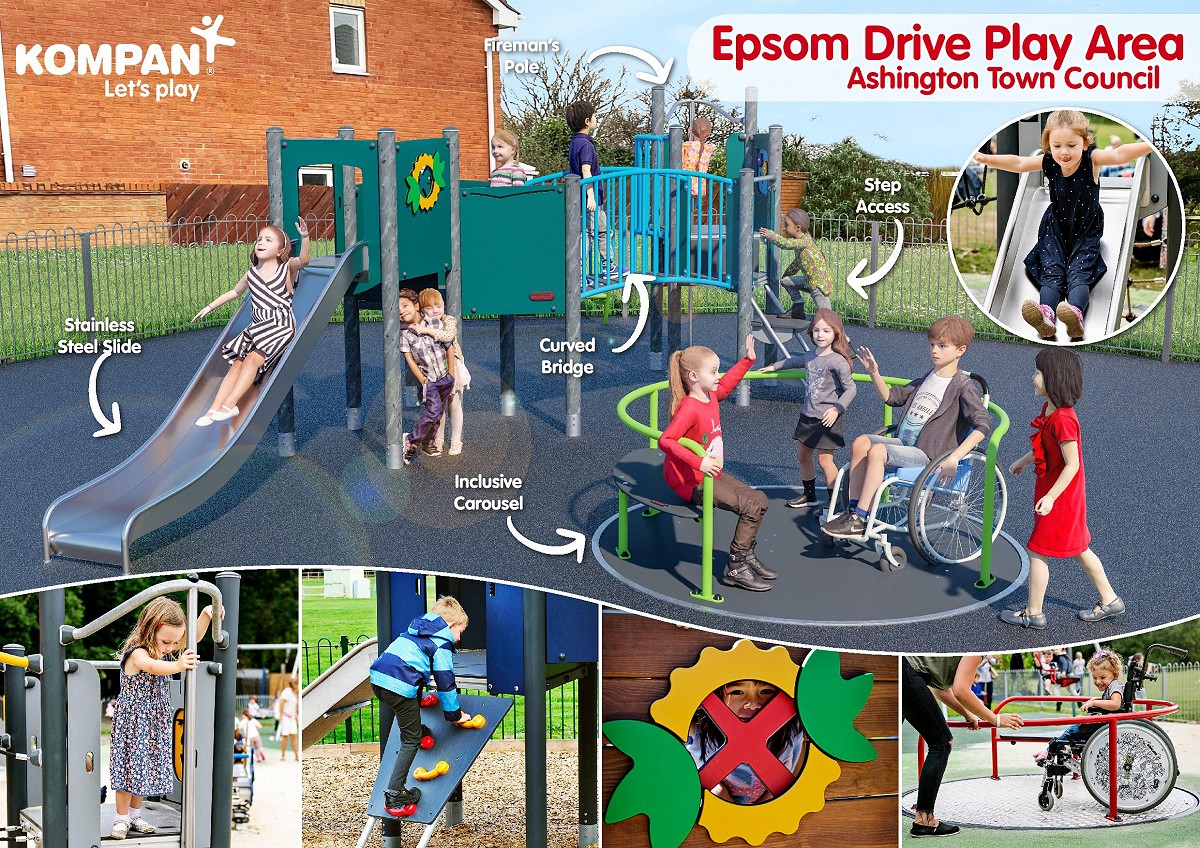 As part of the works, fencing, gates, and seating will be re-painted.
The redevelopment of play areas is part of the Council's commitment to improving the environment by providing a pleasant and safe place to live. To this end, we aim to transform a play area each year, or as is the case this year, two every two years. We have an asset management budget where funding is directed each year so the impact on the precept is controlled.
Play areas contribute to the social well-being of our community. Play England state:
"Research shows that play has many benefits for children, families, and the wider community, as well as improving health and quality of life. Recent research suggests that children's access to good play provision can:
increase their self-awareness, self-esteem, and self-respect.
improve and maintain their physical and mental health.
give them the opportunity to mix with other children.
allow them to increase their confidence through developing new skills.
promote their imagination, independence, and creativity.
offer opportunities for children of all abilities and backgrounds to play together.
provide opportunities for developing social skills and learning.
build resilience through risk taking and challenge, problem solving, and dealing with new and novel situations.
Provide opportunities to learn about their environment and the wider community.
As we look forward to some warmer weather, and more time spent outdoors, let us wish for all the above for our children and young people.