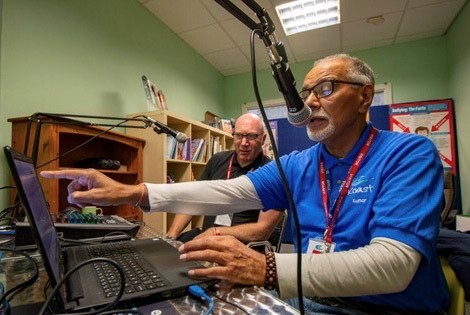 Koast Radio 106.6FM is supporting the local Buzz Learning 'SEND' specialist school and providing its students with the opportunity of community radio station broadcasting.
The local 'not-for-profit' community radio station announced today that Buzz Learning will be supported by the broadcaster to help boost their student's overall self-confidence, well-being and self-esteem, as well as providing the opportunity to improve IT, organisational, presentational, interpersonal, spoken and communication skills.
Ultimately, the Buzz Learning children and young people will be able to plan, record, edit and then send their personal Podcasts to Koast Radio for dedicated "ON-AIR" County Northumberland broadcasting on the 106.6FM radio frequency, as well as (simultaneously) being heard 'online' further afield (regionally / nationally / internationally) via www.koastradio.co.uk
Buzz Learning is a small, friendly independent specialist school and college, based in Ashington, Northumberland. Registered with the Department For Education, (registration number 929/6004). It delivers education to learners who have special educational needs and / or disabilities ('SEND').
Their ethos is to enable learners to "Be all they can!" with their 'Mission' stating that they "aim is to meet the needs of each of our learners to prepare them effectively for adult life. We do this through provision of a broad and balanced learning experience which promotes their educational, spiritual, moral, cultural, mental, and physical development."
The Buzz Learning (school) had its first intake of pupils in September 2018 and is funded to provide for up to 25 learners, (aged between 13 and 16), with:
• Autism spectrum disorder,
• Cognitive and learning needs,
• Specific learning difficulties,
• Moderate learning difficulties,
• Communication and interaction needs, or
• Speech, language and communication needs.

The Buzz Learning (college) operates next door to the specialist school and delivers education and training to learners, (aged 16 to 24), who have 'SEND'. The college has been in operation since 2004 and is graded 'Good' by Ofsted.

Hannah Harighi, from Buzz said, "We are lucky to have a local community radio station in the area who can add extra ingredients into our educational delivery. Their input and knowledge of broadcasting will help to boost our students' skills. The students can't wait to get started and have the opportunity to hear their projects being broadcast on the radio; Garry and the team at Koast are very supportive of what we do in our school and have supplied us with the equipment to create and edit our broadcasts. We're excited to hear the results of our work broadcast on the radio."
Visit the buzzlearning here; http://www.buzzlearning.co.uk/
Contact buzzlearning here; info@buzzlearning.co.uk
Koast Radio 106.6FM are now proud members of the "North East Local Enterprise Partnership", with Garry Scurfield (Director / Volunteer Radio Presenter), Dave Richards (VRP) and Robindar Kumar Pugal (VRP) acting as the trained-up NELEP "Enterprise Advisor" designated-support to Buzz Learning.
Garry Scurfield, from Koast said, "Our partnership with Buzz Learning is an exciting project. I have seen first-hand how broadcasting and recording has a significant impact upon developing confidence and communication. It's essential that our local educational establishments use local business and community organisations to complement their educational learning."
Visit Koast Radio here; https://www.koastradio.co.uk/