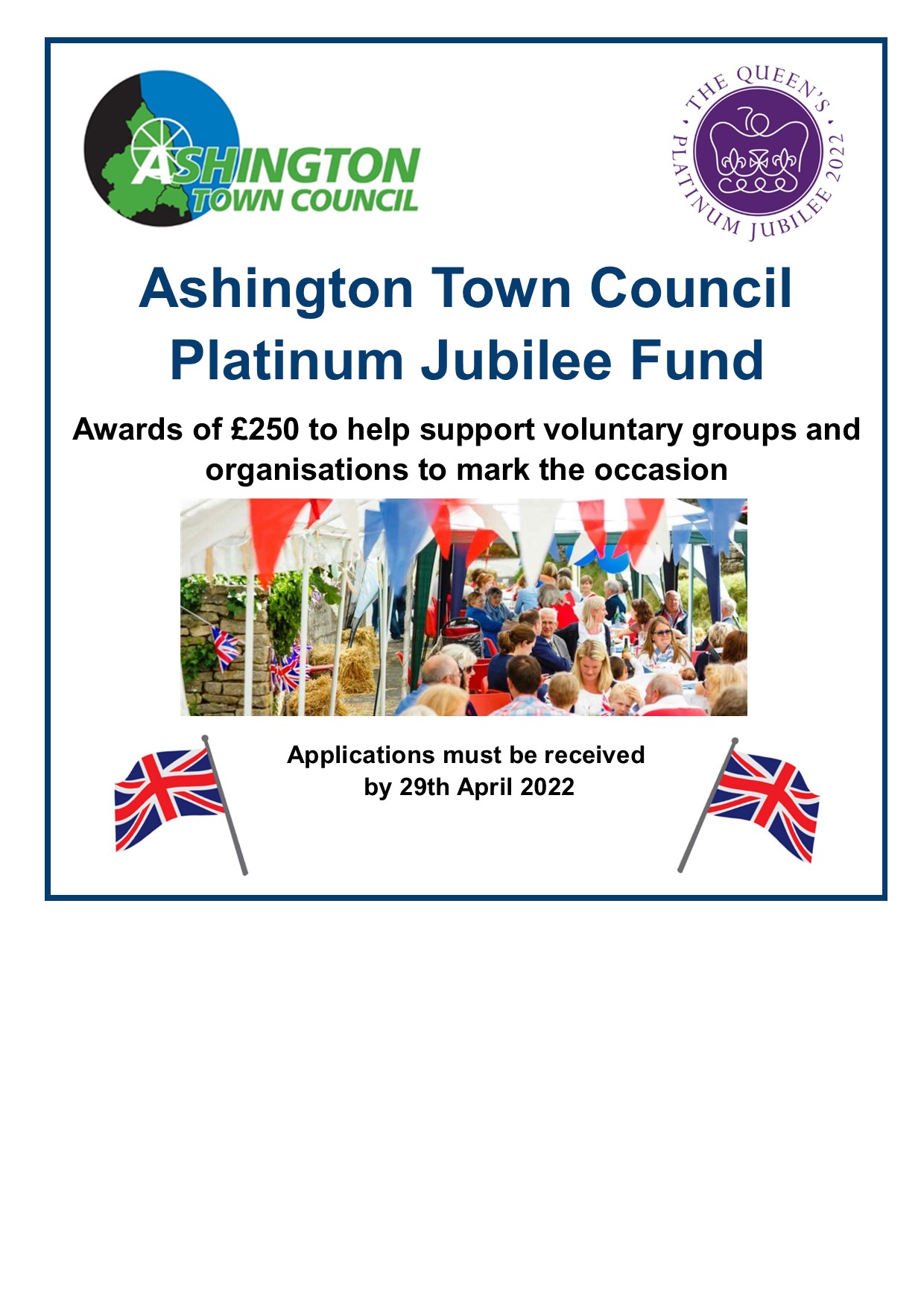 Applications for Funding are Invited
In 2022, Her Majesty, The Queen will become the first British Monarch to celebrate a Platinum Jubilee, commemorating 70 years of service.
To help celebrate the occasion, Ashington Town Council will make £5,000 available to non-profit making voluntary and community groups.
The purpose of this special fund is to support groups to put on celebratory events, activities or projects, which mark the occasion in this platinum jubilee year.
It is envisioned that celebratory events will take place as part of The Queen's Platinum Jubilee extended bank holiday weekend from 2nd June 2022 to 5th June 2022, but special activities and projects may be supported outside of these dates, providing they are within the Platinum Jubilee year.
This could be special tree planting as part of the Queen's Green Canopy, or similar environmental projects. You might have a Platinum Jubilee themed bingo, tea party, football match, darts tournament, bowls event, craft day, film night; the list is endless!
The Council is keen to support as many events and activities as possible. Should the Council receive more applications than the budget allows, decisions will be based on a fair representation across the six wards of the town.
Grants of up to £250 are available. Applications must be received by 29th April 2022.
If you meet the eligibility criteria, please complete the Platinum Jubilee Grant Application Form.
Eligibility Criteria
Platinum Jubilee Funding is available to voluntary, non-profit making organisations who provide facilities, activities, and services principally for residents served by Ashington Town Council.
Typically, these organisations include sports, play and art clubs, community associations, youth organisations, organisations that assist disadvantaged/vulnerable groups and charitable trusts.
To be eligible to apply, you must be able to provide the following: (Please speak to us if you would like to apply but are unsure about the immediate availablity of policies and written terms)
A constitution or governing document, or written aims and objectives.
Up-to-date financial information, including latest accounts and bank statement.
A set a basic core policies or written agreements:

Health & Safety
Equality and Diversity
Safeguarding
Data Protection and GDPR
Grants can be used to support events, activities or projects. Grants cannot be used to purchase single-use items, in keeping with our Climate Change agenda.
Apply
Please complete the aplication form linked below to apply. You can print or request a copy and complete by hand, or download the Word version and send by email.
Queen's Platinum Jubilee Application Form (Word) (Opens in a new window)
Queen's Platinum Jubilee Application Form (PDF)
Applications must be received by 29th April 2022. You will be advised of the outcome following the Council's meeting on 10th May 2022.